BACKDROP
In January 2017,
Siddharth Naik
,
Arunabh Satpathy
and I anecdotally noticed that residents and tourists in cities were many a time unaware of the hidden gems around them and had a difficulty in finding new places to visit using their phones. 
Some looked to Google search, some looked to blogs, but none were unaware of Google Map's feature for this problem called Explore.
This motivated us to investigate the popularity of Google Explore and propose design changes which could be made to improve the Google Explore experience.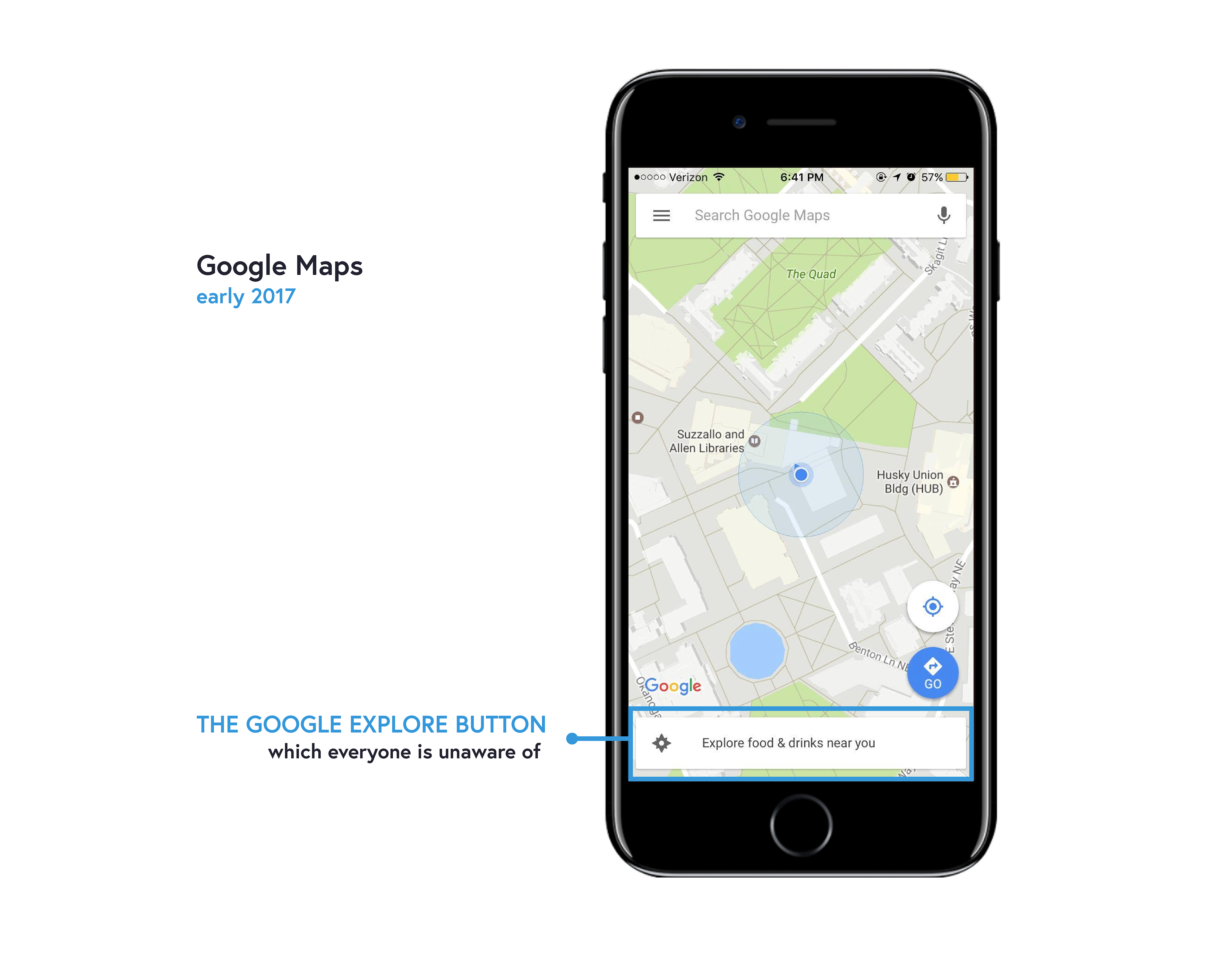 Since this was a school project, we had only a month to complete this project. 
Timeline:
30 days
Team Members:
3
My role:
 User Research, Content Strategy, Prototype B, User Testing Plan
Tools used:
Sketch
⛱ When do people want to explore?
To begin our investigation we identified two types of explorers and three types of scenarios of when people would want to explore. 
These scenarios were key for  collecting statistical evidence in our user research which would help clearly define the user needs and current pain points in the discovery process.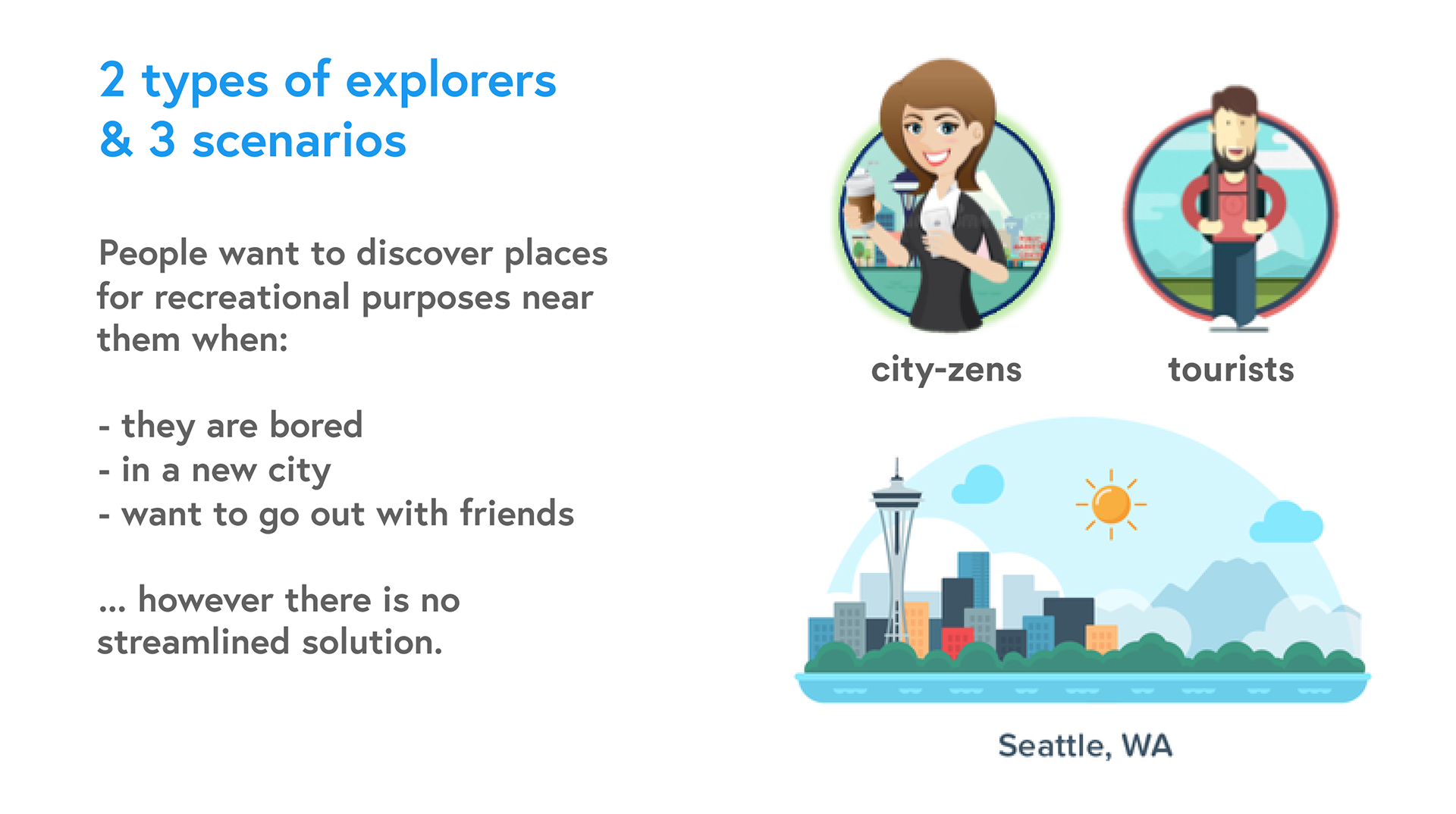 STUDY THE EXISTING PROCESS
🏙 A trip to the Seattle Space Needle
To understand how users could use the product out "in the wild", we
decided to conduct contextual inquiries
 on a Sunday afternoon at the Space Needle, a tourist attraction in Seattle. 
This location was ideal as we were able to interview a diverse range of users — ranging from tourists to newly arrived residents to longtime residents of Seattle. Since they were there for recreation and sightseeing there was a high probability that they would be looking to discover and visit surrounding areas to see later. 
This diversity and situation helped us identify the different ways people used their mobile devices to help them in their discovery process in the wild.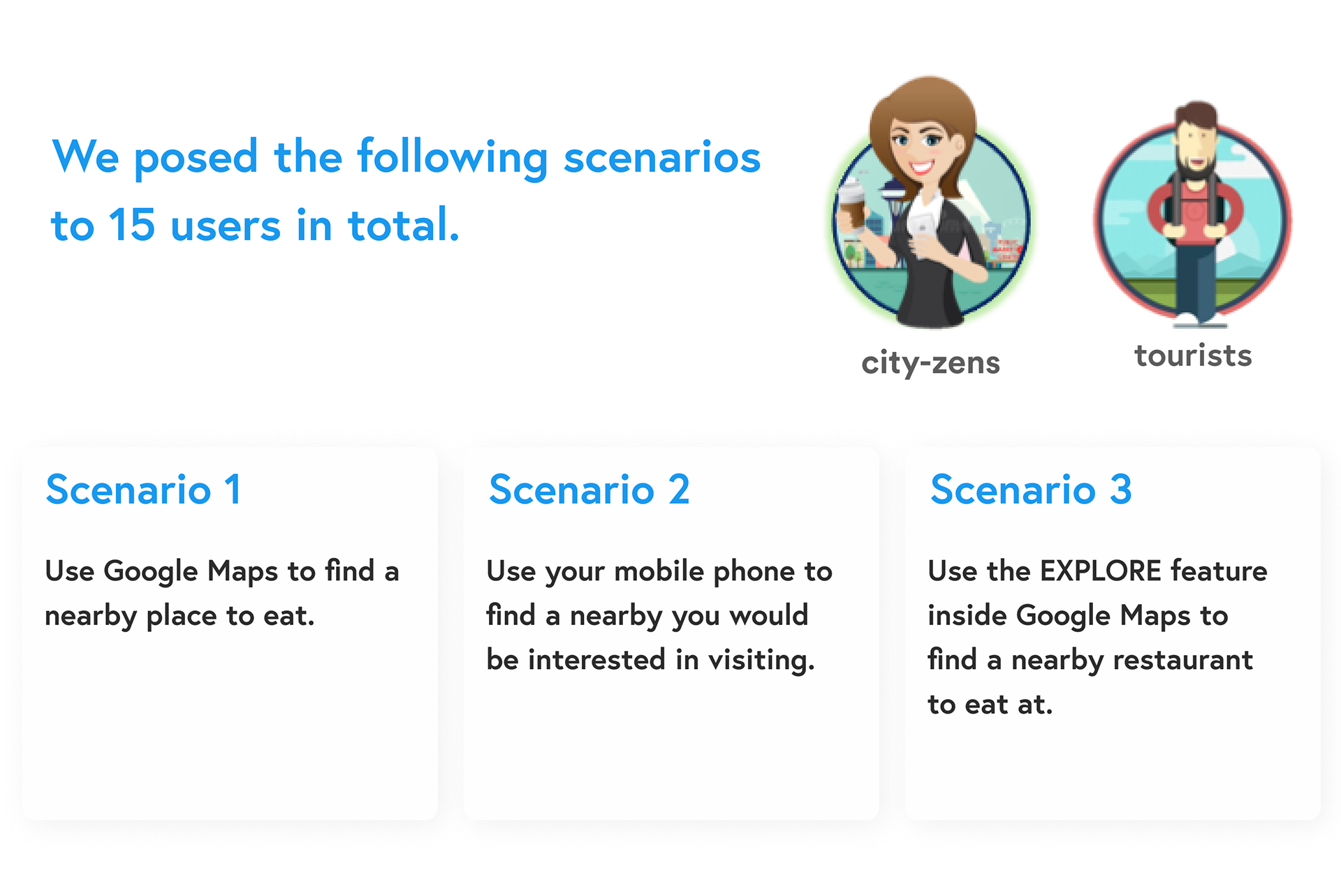 ⚠️ People are not using Google Maps to explore
The contextual inquiries helped us collect a lot of raw qualitative information. However the quantity of it was large and hence we decided to create an Affinity Diagram to categorize and then analyze the information.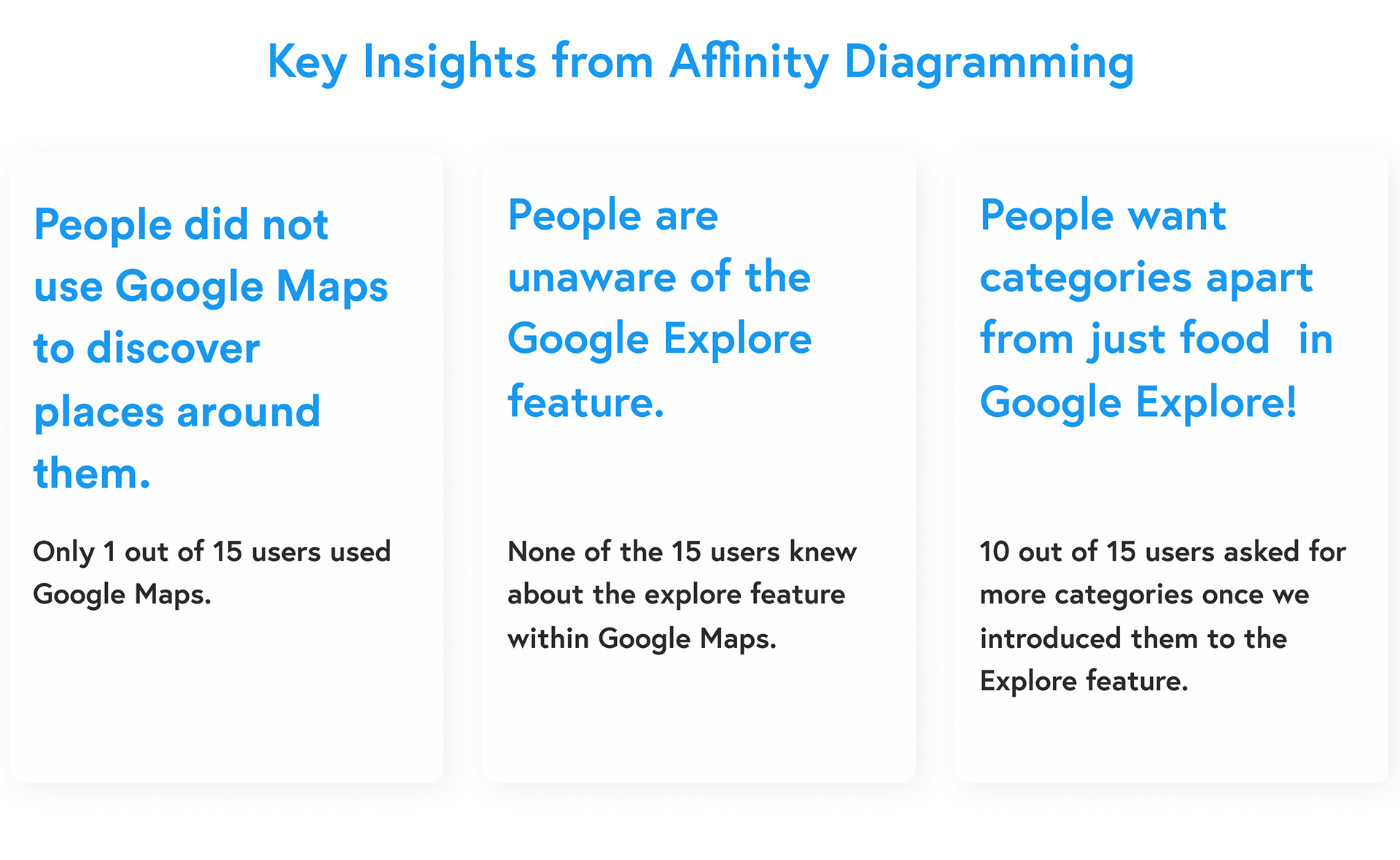 🔍 Everything almost always involves Search
Using the observations of our contextual inquiries, we drew up user flow models to help us understand the different routes people took to discover places and how we could possibly design solutions that will reduce any existing amount of cognitive load on them. Through our models we realized that 93% of the users started at Search. 

IDEATION
✏️ Our Prototyping Plan
Using the above insights, 
we set out to achieve the following goals:
   - Diversify the exploration categories to include events & activities
   - Integrate the design within or near the search bar
   - Contextually onboard users to the new Google Explore
Introducing changes is a large-scale decision to make, hence we decided to make two prototypes in separate teams for A/B testing:
- Prototype A would be made by Siddharth & Arunabh 
- Prototype B would be made by Me (Zoshua)
Though we were making two prototypes, we spent the initial days together to better understand the direction we were taking. In this period, we spent a lot of time sketching low-fidelity wireframes of possible solutions. 
To ensure consistency and uniformity with other Google apps, we followed the Material Guidelines & used material components and navigations throughout the design process from paper sketch to high fidelity prototypes.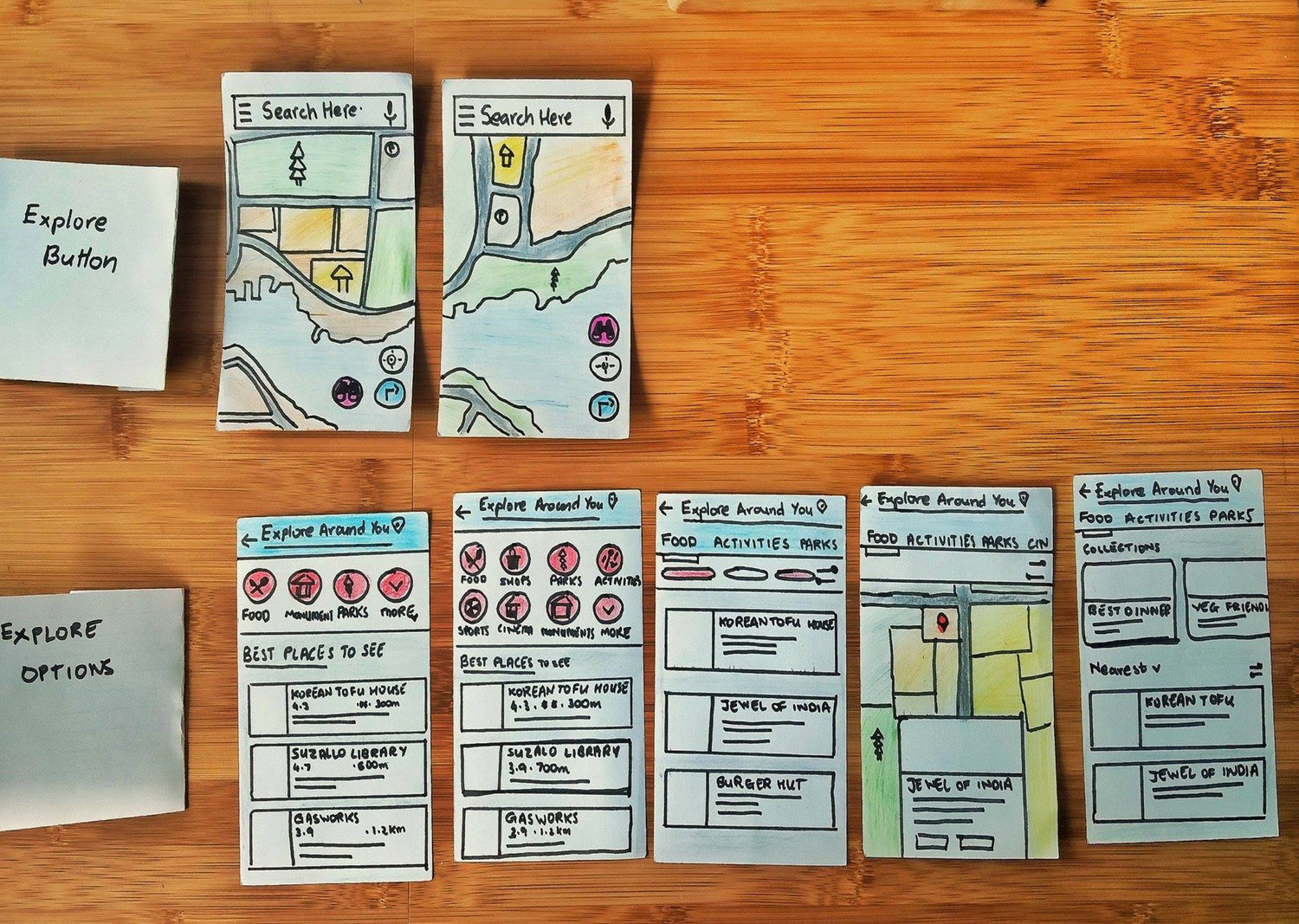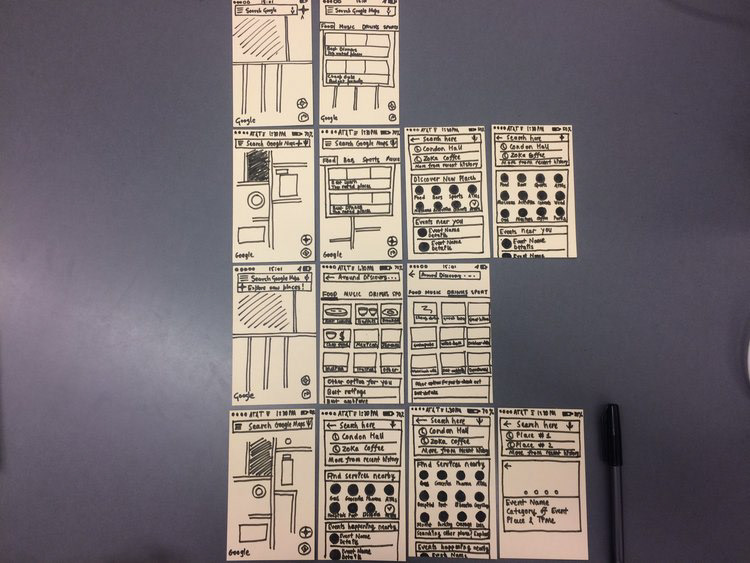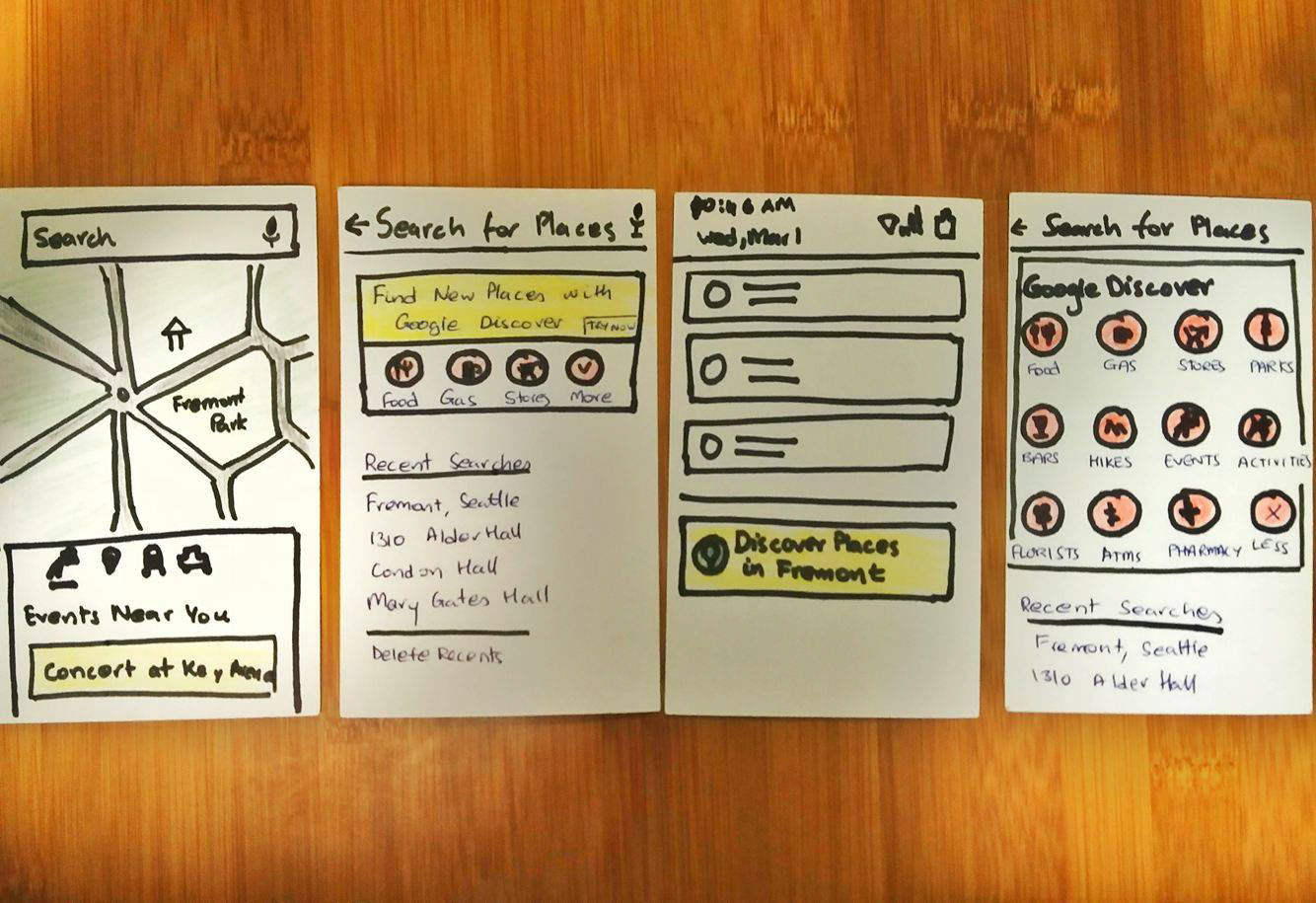 PROTOTYPING
Prototype A
This prototype was developed by Arunabh and Siddharth with the aim in mind being to exploit the potential of the explore bar being in close proximity to search.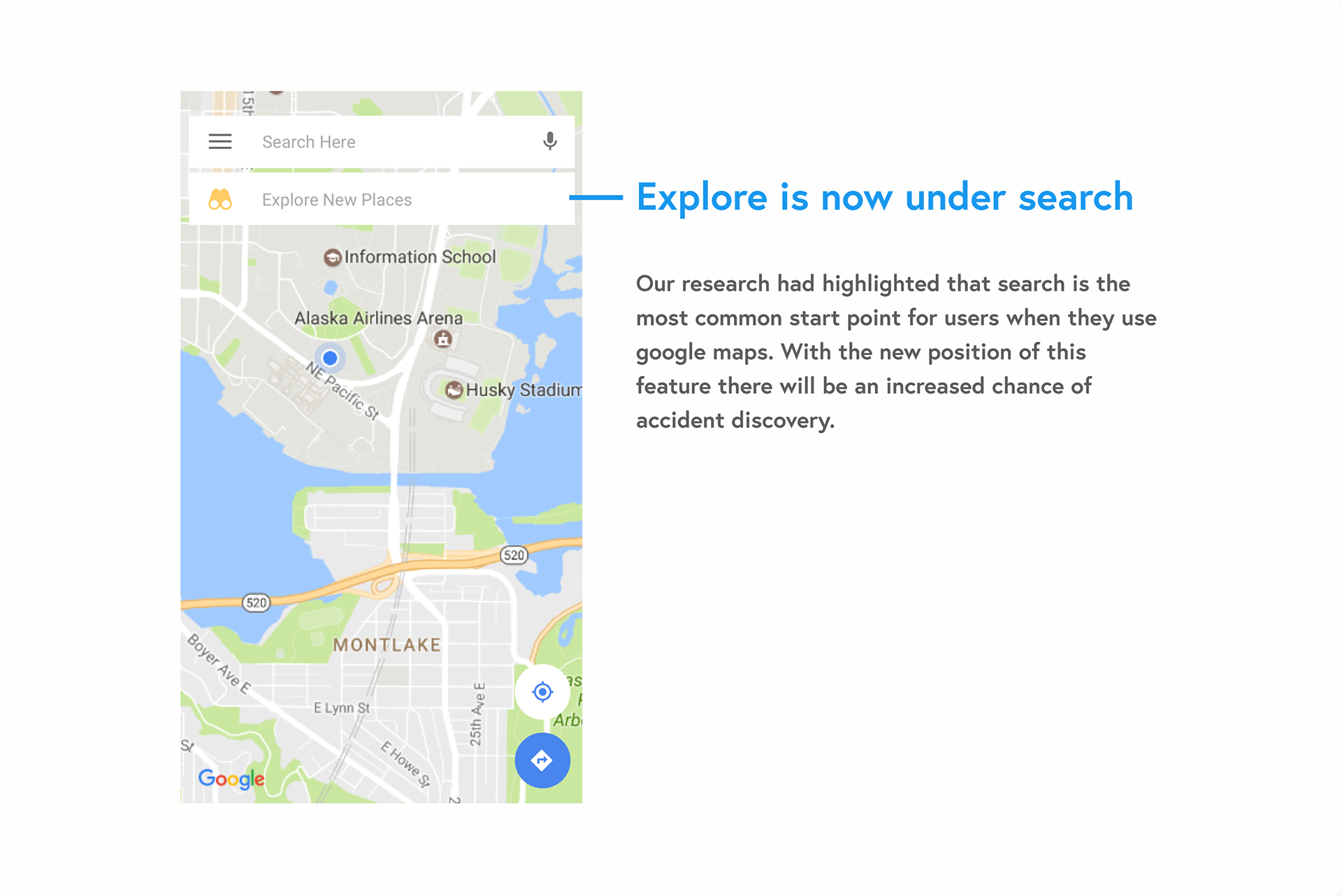 Introducing the activities tab to the explore page, made us realize that the total number of explore tabs was unnecessarily overwhelming. Breakfast, lunch, and dinner were each their own tabs with bars being put under them. 
To overcome this problem, we made simplified the breakfast, lunch, and dinner categories to a "Food" category and made "Drinks" a category of it's own. 
We still wanted breakfast, lunch, and dinner recommendations to remain. Hence we added them as the first tile under food. This tile which would change based off the time of day. For example at night, it would read as "Best Dinners".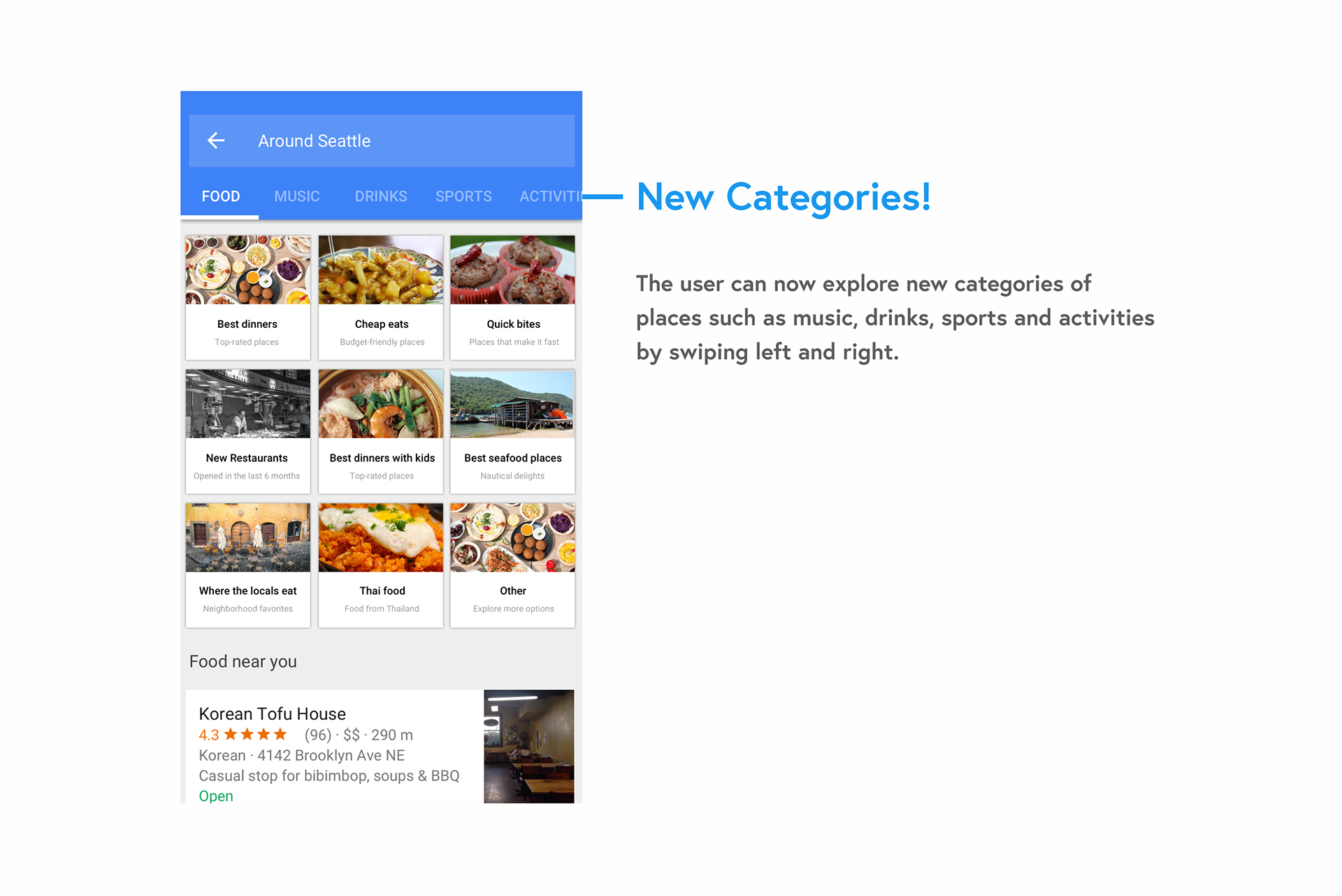 Deciding whether we should add sub-categories to Activities and Events was an important decision for us. If we sub-categorized them there could be an information overlap in the options available. This was especially apparent when it came to Music and Sports. Noticing this possibility of confusion, we decided against further segregation of events and activities.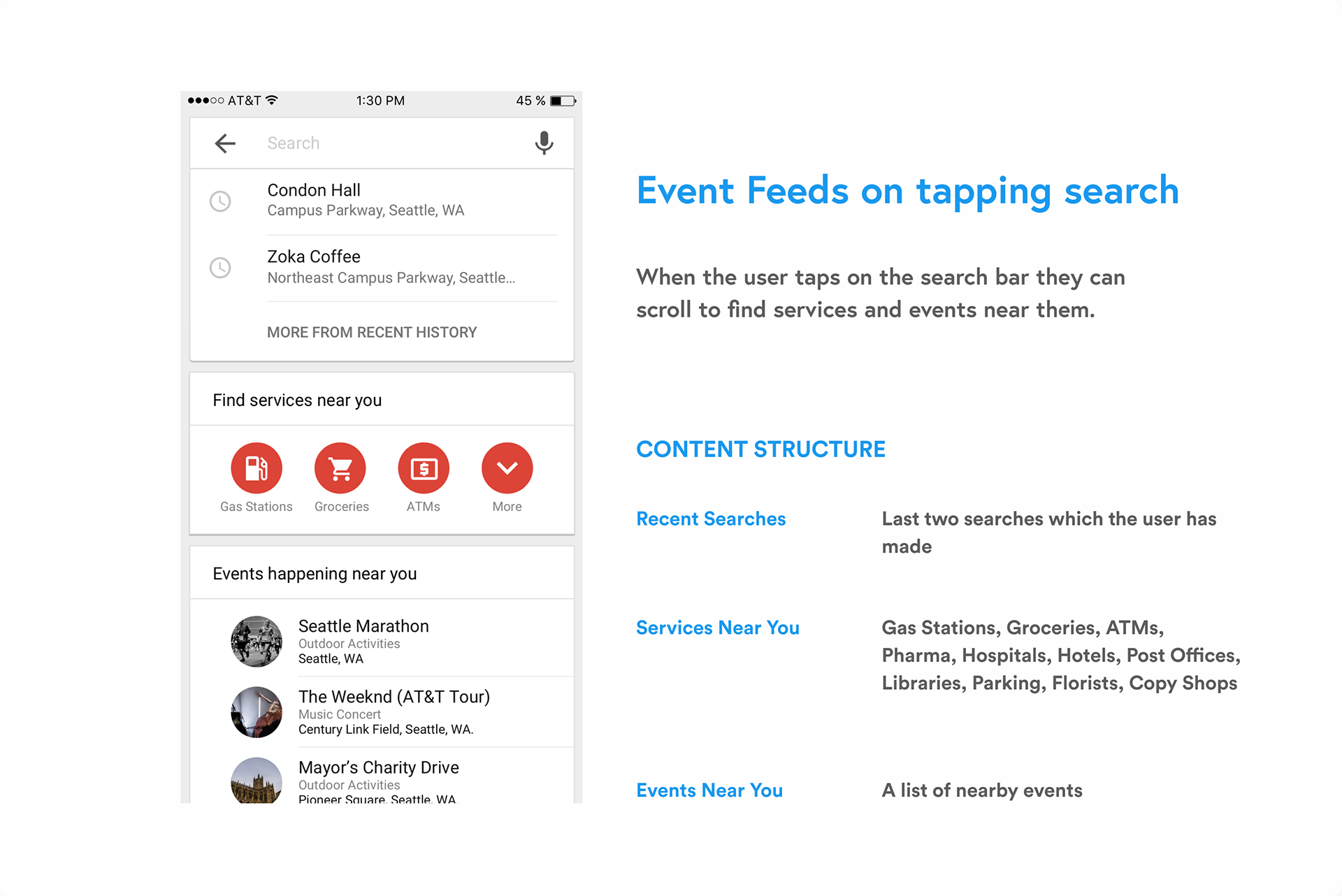 Prototype B
I was solely responsible for this prototype.
 The key focus of this prototype was to focus on the information architecture for new categories such as events & activities.
During this stage, Google had launched
a revamped Google Maps
. While explore redesigned as a pop-up card, the content was the same and therefore so did the challenge - to diversify content from being just about food. I started by creating two content strategies to subcategorize events and activities. However, both were problematic as there were information overlap with some categories looking out of place (detailed below).
I then chose a different approach. I went to the university library and completed a card-sorting activity which exposed me to a strategy of categorizing events & activities by action verbs/moods. This was an effective strategy since a user could easily select what their mood was inclining towards & accordingly get a list of things to do. Hence I decided to categorize events & activities by Action.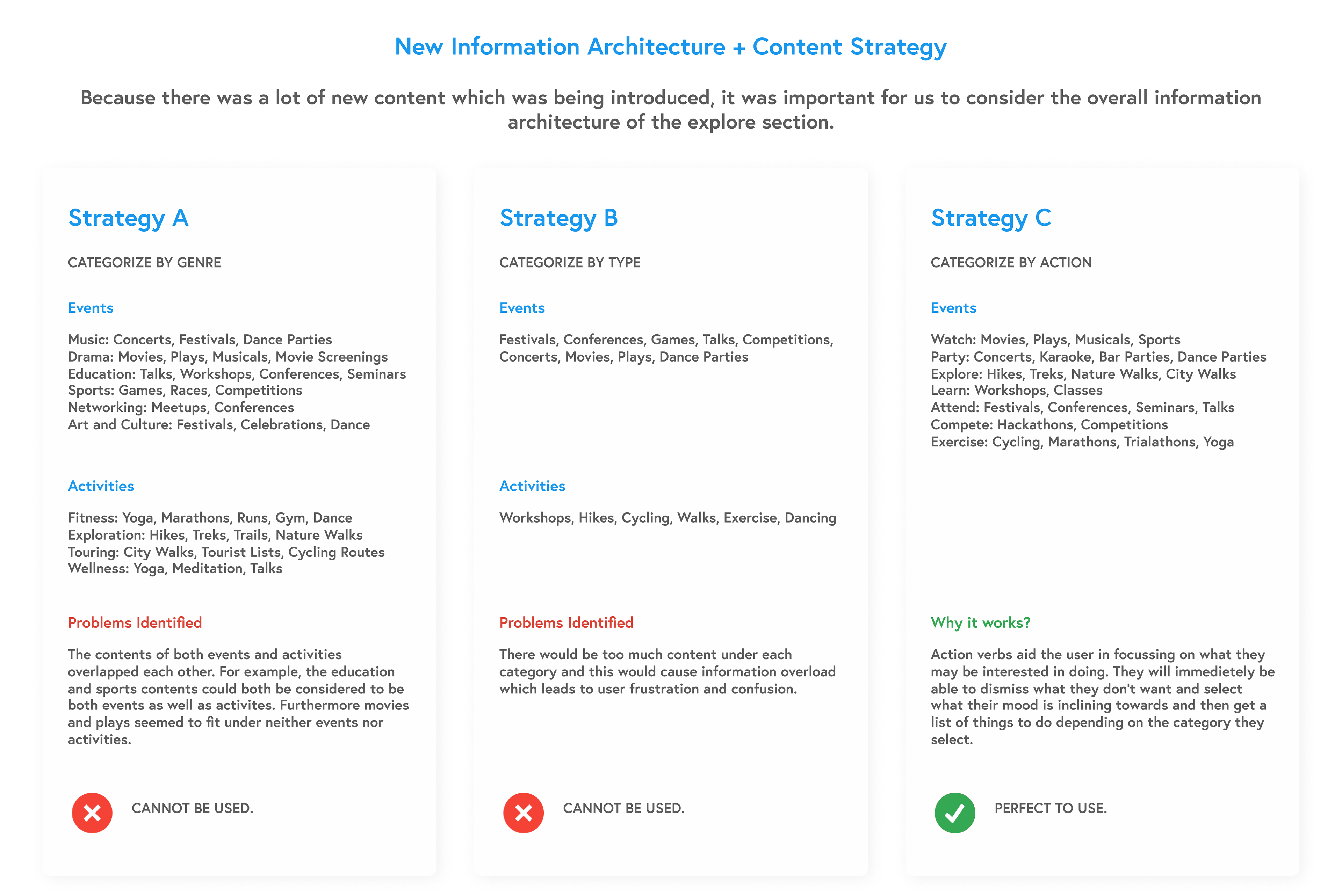 The next step was to implement this newly designed information architecture. 
Using the insight of users always using search, I decided to introduce the new content on the search screen itself. This interface decision was more intuitive as it could easily serve users with semi-specific searches and those curious to explore the region.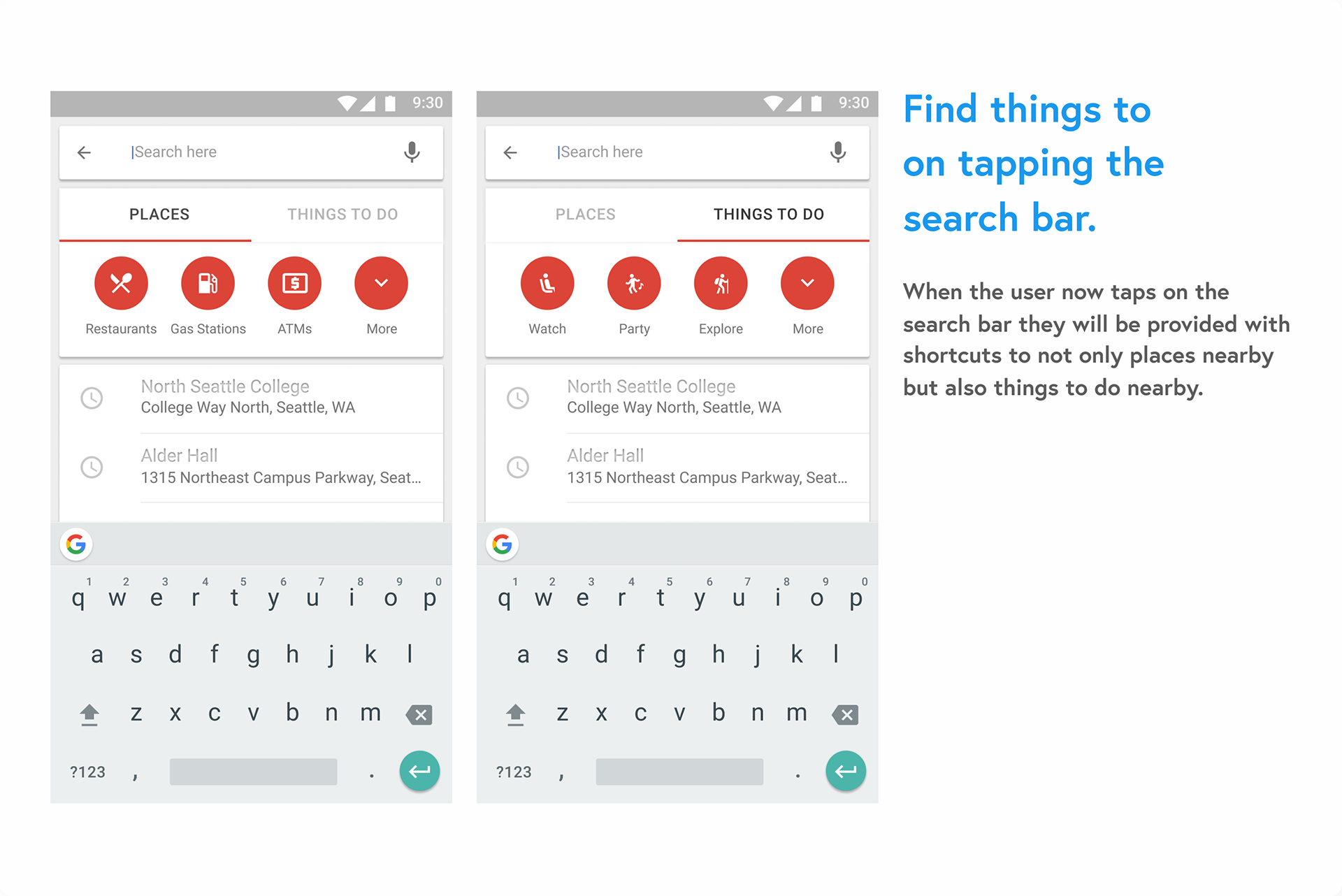 Redundancy isn't always bad. In this case it was beneficial to still keep the explore pop-up. I introduced new categories of places and a personalized list of suggested "things to do & places to see" based of the user's search history into it.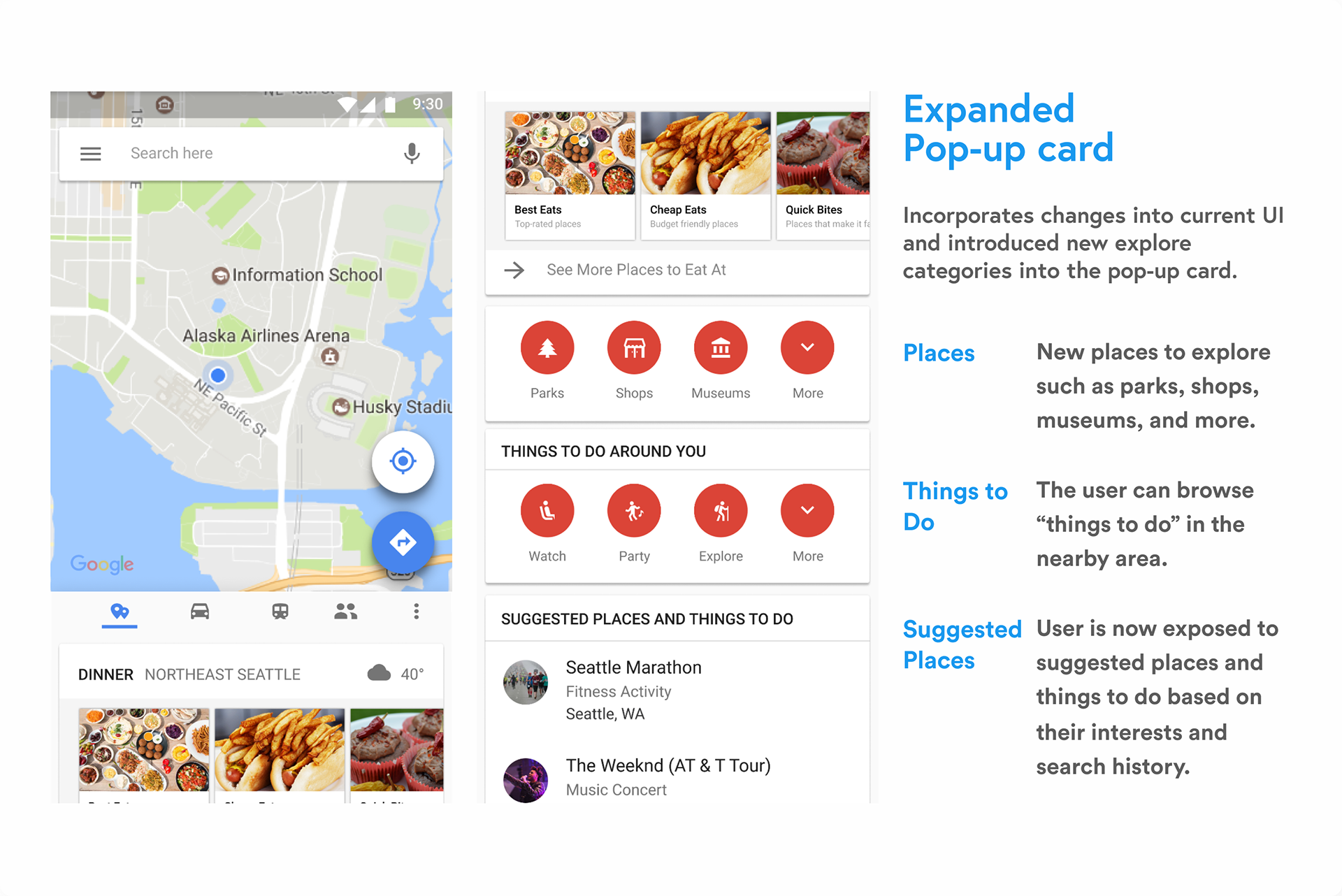 A key issue in the current version of Google Maps was that users were unaware of it. My gut reaction was to create a slideshow tutorial. However I wanted something more long lasting & unobtrusive. Therefore we introduced contextual on-boarding where the users is introduced to the explore feature only when they either need it (such as when they are in a new city) or are browsing through Google Maps.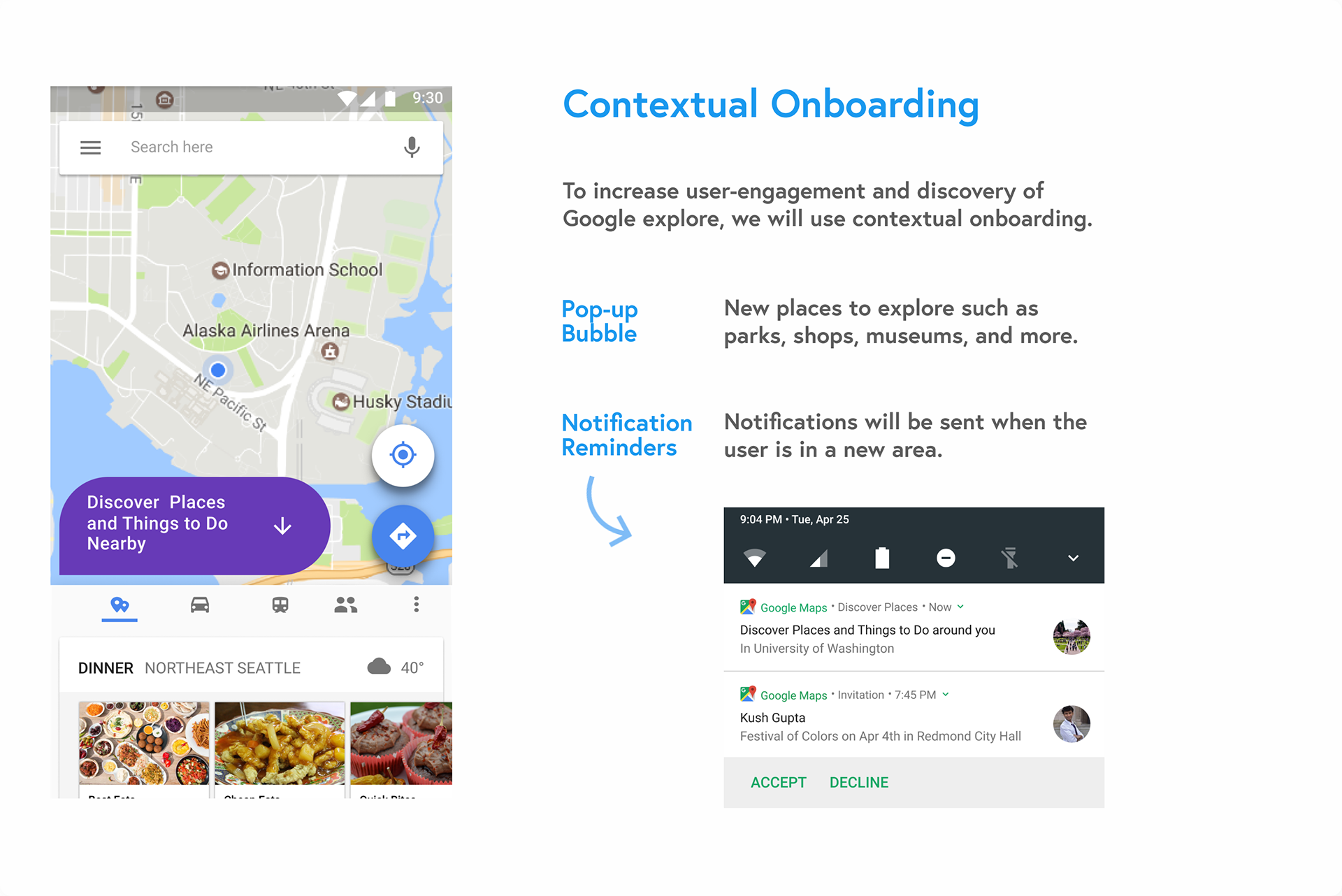 USER TESTING AND PROPOSAL
👥 A/B Testing
Though our class project did not require us to, we attempted to squeeze in some time for A/B testing of our prototypes to identify if either of our prototypes performed better than the current solution. While we were unable to find enough users for A/B testing in a span of 4 days, we were able to design and develop an A/B testing plan based off Google guidelines which could be used in the future.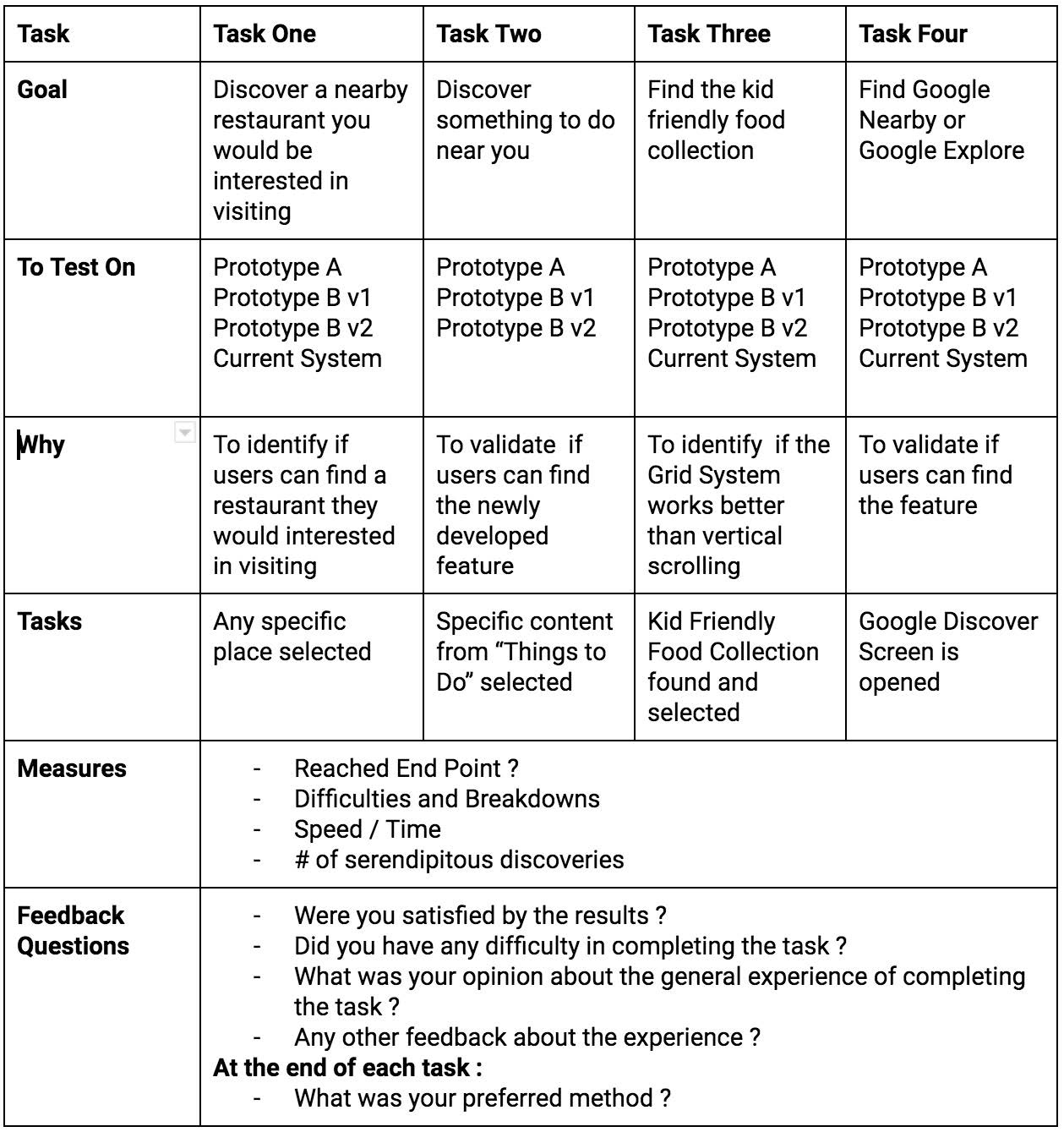 FIN.
This project was the first time I had done a contextual inquiry. Not only did I learn a new user research technique but I also realized the true impact user research can have on making design decisions, as our prototypes were all constructed around one key insight discovered from the process. 
😬 Key Challenge
This was project was being patient. From the start each of us had our own solution ideas and the idea of opening Sketch before research was extremely alluring. It was the time and patience invested at the Space Needle and at Allen library that really helped us in thinking clearly when we reached our laptops.
🤔 What Next?
If I were to take this project forward, I would like to complete the user testing stage after which I would refine the idea and then spend more time exploring what the end-points of the user journey could potentially look like. Another tangent I would like to explore would be that suggested by a friend - introducing the explore feature directly into Google Now and Search. All in all, the possibilities are endless and this was one of my favorite projects - especially because of the people I worked with - Arunabh and Siddharth!