BACKGROUND
The Story
Curious to know more, I learned via various news sources that they are building a surveillance system. However when I visited their website I didn't notice any of this and was left confused. 
I felt it needed an immediate revamp to reflect their $1 billion valuation and thus decided with Human Capital that this would be my pitch to their company.

Since this was a recruiting design challenge, I only had 2 days to complete this project. Due to this, I focussed on solving immediate product concerns using pre-existing graphic assets rather than creating any new assets.
​​​​​​​
Timeline: 
2 days
Team Members:
 Just me
My role:
 Usability Testing, Heuristic Evaluation, Prototyping
Tools used:
Figma
THE PROBLEM
⚠️ Anduril's website could improve at communicating who they are and what they do
As a defense contractor for the United States government it is extremely important for Anduril's website to instill trust and credibility into visitors who wish to see how their tax dollars are being spent. And for a company with $1 billion valuation, their website does not set a good first impression on possible future investors. 
The copy on the landing page along with the poor site structure do not do justice to the work the engineering team does and make Anduril an easy company to pass on.

USABILITY TESTING
🚁 Usability Testing Participants think Anduril is just another drone company
Through a usability testing session with five United States citizens I gained key insights into how users scanned the website to understand what Anduril did. 
The participants were only able to gain a superficial understanding of Anduril with many falsely identifying that they are a drone company.
All participants wished there was more text for them to scan and felt that less information on a defense website created a negative impression as they felt things were being hidden. 
This insight helped me realize what needed the most attention - the COPY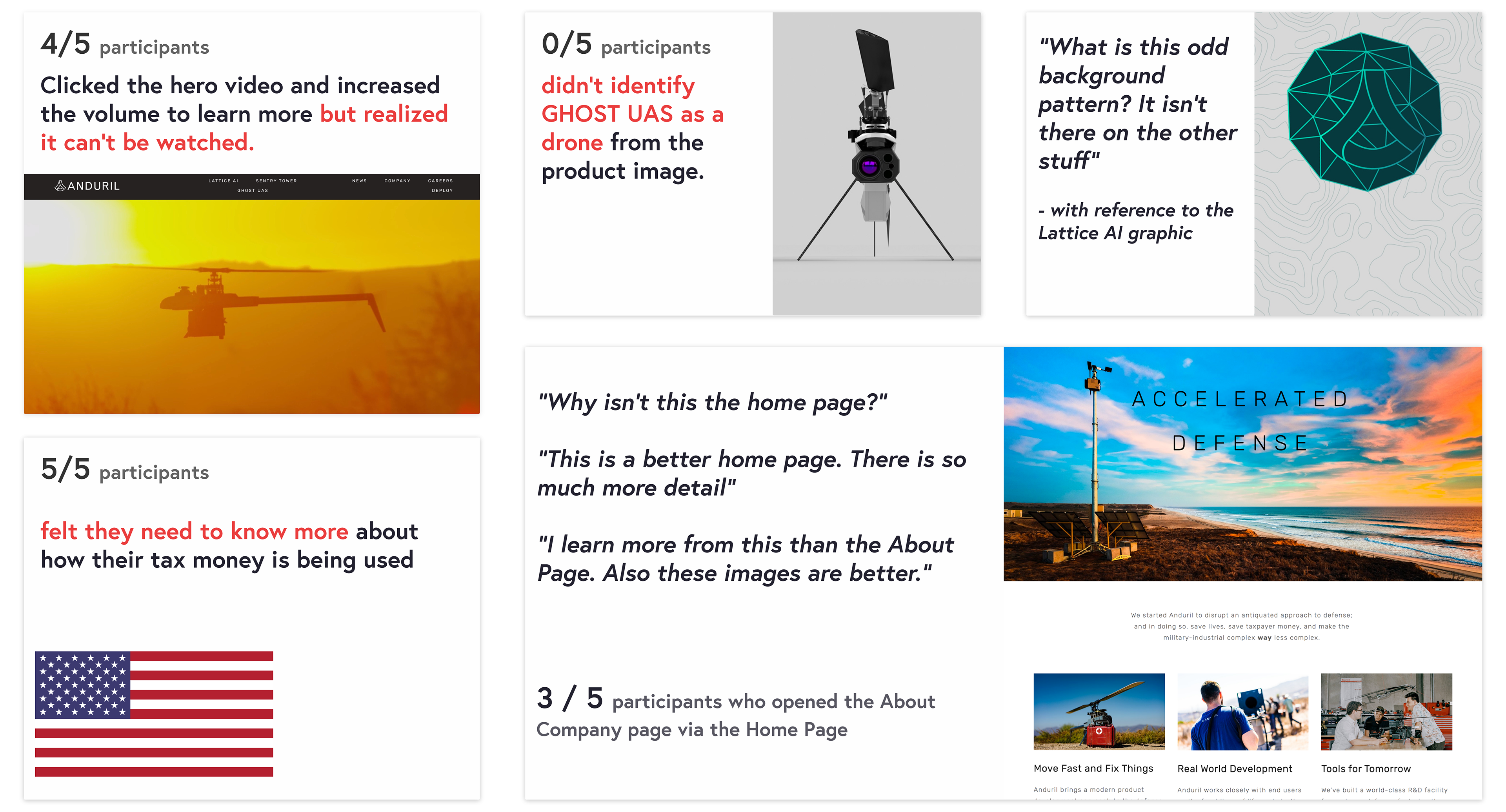 A NEW APPROACH
📝 Why I selected improving copy as the strategy
Since time was limited, I wanted to improve the parts a taxpayer or potential investor will focus on the most - textual content. This was extremely important as surveillance has a negative connotation attached to it. However this didn't reflect the positive work Anduril was doing.
I hence decided to primarily focus on building a rhetoric of the positive impact Anduril's surveillance systems had for the United States and kept visuals and layout secondary.
📰 Introducing a Headline to the Fold
First impression are significant in establishing context, trust and credibility. The current website didn't have a headline and had a stock-like audio-less video showcasing the product in action. This reflects poorly on Anduril when a US citizen visits the site for the first time to see how their tax dollars being put to use. 
To change this, I tried multiple headlines to convey the value proposition Anduril provided to US taxpayers and the government and converged on the following three below. 
Due to time constraints I was unable to test these headlines with real people, and hence used Grammarly to compare each of the headlines on the basis of formality, tone, and intent. This made me converge on the first headline which was the shortest & most optimistic. 
🌱 Focussing on impact rather than just name
A key observation I made during usability testing was that participants were unable to identify the products & what they did. This is a common problem many websites of emerging products need to usually overcome. 
I hence came up with a strategy which focussed on the impact of the product and provided short snippets on what the product was meant to do. This would establish context and be a quick pitch of the product rather than the user having to visit the product page & only then learn more about it.
Below is the structure of the product preview I would use for the new landing page.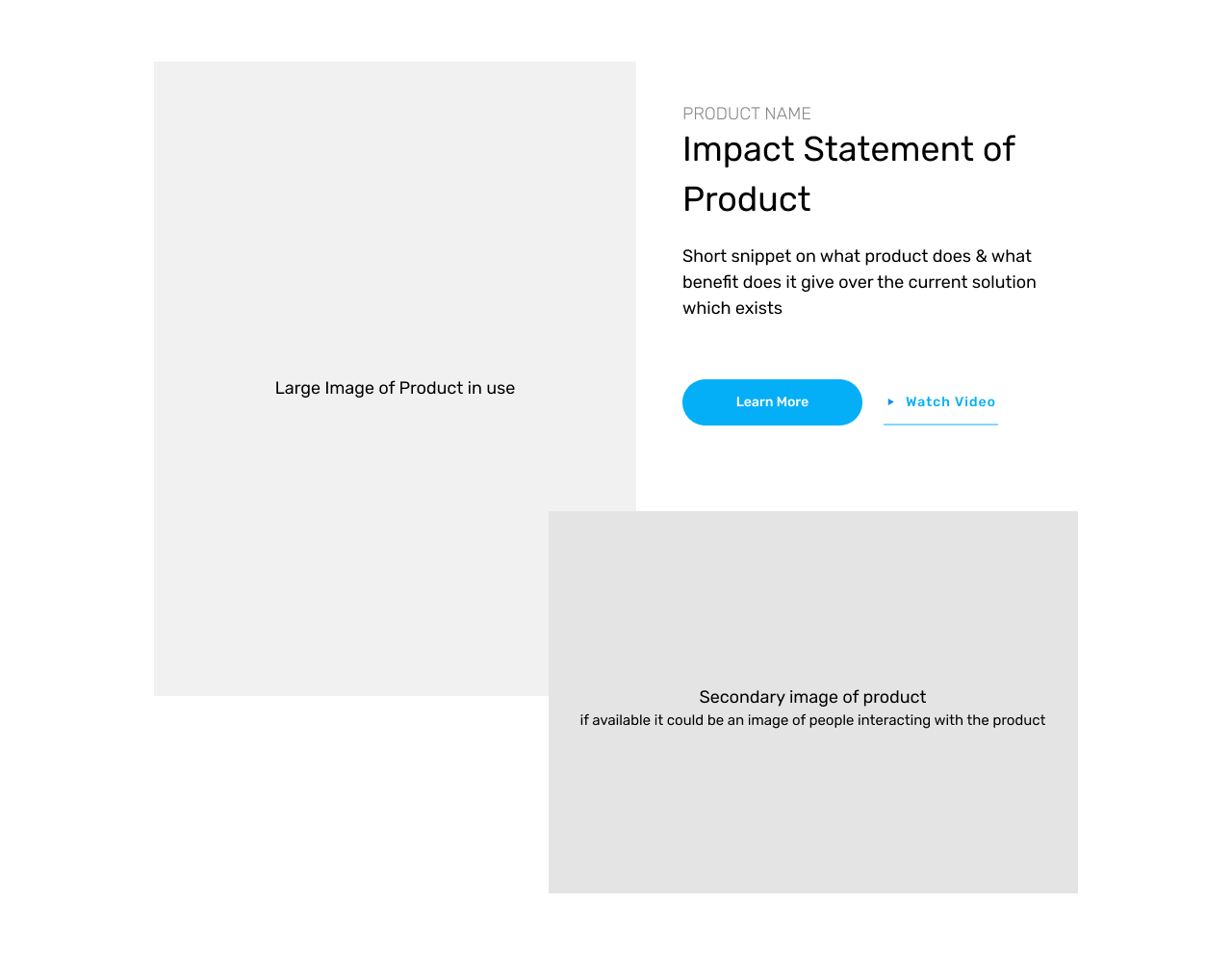 ✨ A New Landing Page Experience
Rather than making too many cosmetic changes, I focussed on making changes which provided a more structured & informed reading experience to a potential visitor. This included introducing new headlines, product briefs, simpler language, & dedicated call to actions for users to read more about each product. 
Below is an annotated copy of each change I introduced.

FIN
📗 The Results
Even though I was time constrained, I was able to conduct an A/B test of the new design versus the old design with 4 college students. Here are the results: 

- 4/4 participants mentioned that the new design was more professional & organized
- 3/4 participants mentioned that the new design showcased the positive intent of the company and it's products 
- 4/4 participants said the visuals used on the new design were more representative of the products versus the previously used 3D renderings. 
This was also an opportunity for me to learn what could improve and be changed. I got requests to add a news preview section and "how do we use tax dollars section" on the home page itself. This was a great insight and would be a perfect next step in further building trust and credibility.
📚 Key Learnings
This project was a good reminder to me to always respect making a plan. 
When I first started, I was immediately going to start with high fidelity prototyping & layout design. Fortunately though my gut stopped me and made me create a structured plan. It was because of this that I conducted a usability test which help me realize that without good content, great visuals won't work and hence I should focus my time on that instead.

🤔 What Next?

In this 2 day cycle I only had the opportunity to focus my time on the landing page experience. To ensure consistency and to increase credibility I would also like to work on improving the product pages, creating sample case studies, and writing guidelines on how future case studies should be written.

During the A/B testing, I learned that I should focus on providing a comprehensive explanation of how Anduril uses tax dollars in their R&D and deployment. Therefore I think it would be a great opportunity to focus on creating a beautiful page experience as this is part of the core issue I was trying to solve.