BACKDROP
In 2013 in San Francisco, a six-year-old girl was man-slaughtered by an Uber driver not paying attention to the road as he was distracted by his Uber App. Devastating as this event may be, it is unfortunately all too common. This is why I decided to focus on this problem for my design thinking class project.
Timeline:

20 days


Team Members:

2


My role:

User Research, Prototyping, Video


Tools used

: Adobe XD
👀 Uber Drivers are not keeping their eyes on the road!
Furthermore, given the unique need of ride-share drivers to an over-rely on their phone, one might deduce that the actual rate of distracted driving incidents may indeed be disproportionately high in comparison to everyday commuters and other drivers. 
Multiple news outlets such as
ABC News
,
The New York Times
, and
Bloomberg
ave reported on this problem with some passengers going as far as to describe Uber as
"a paid incentive to the driver to practice distracted driving."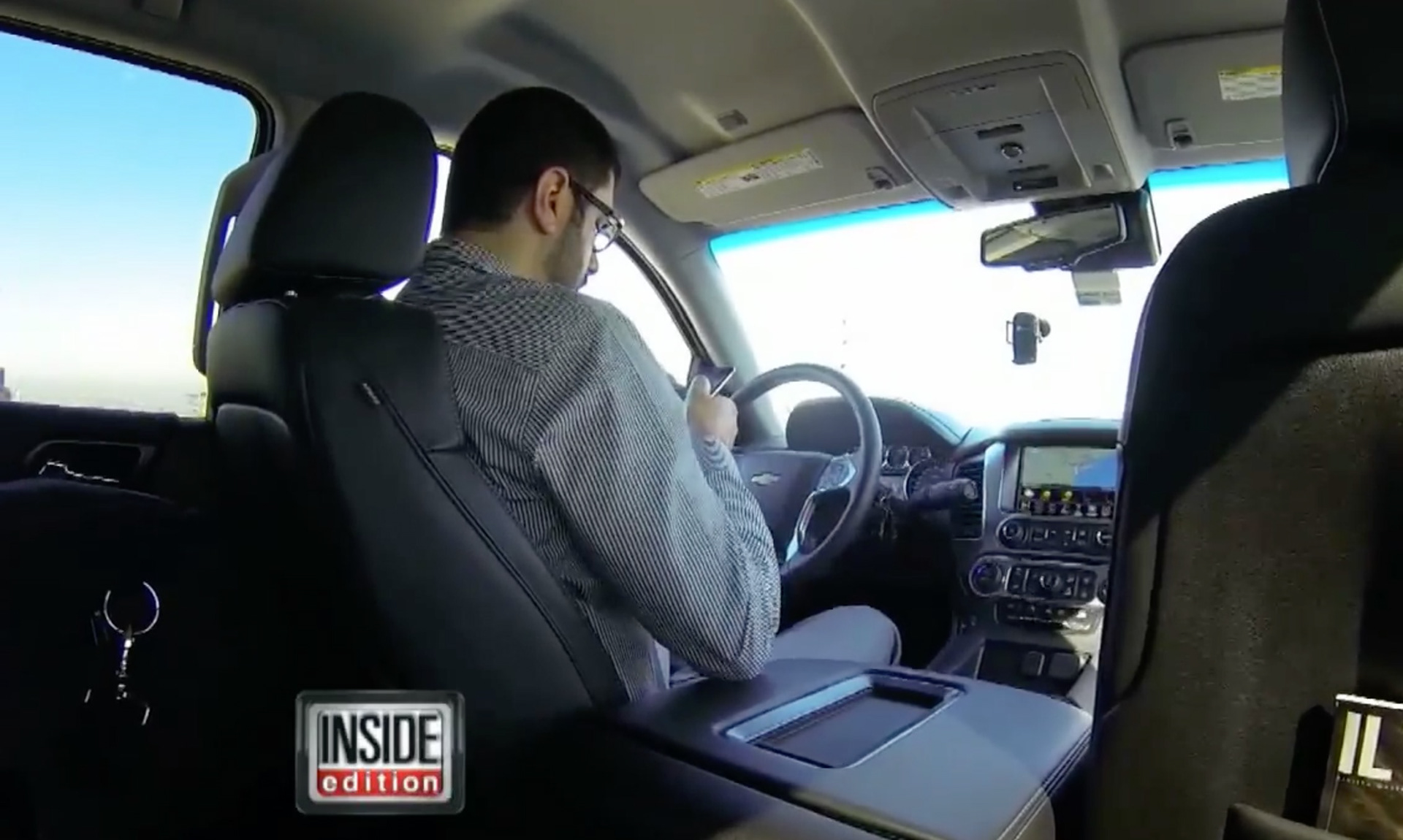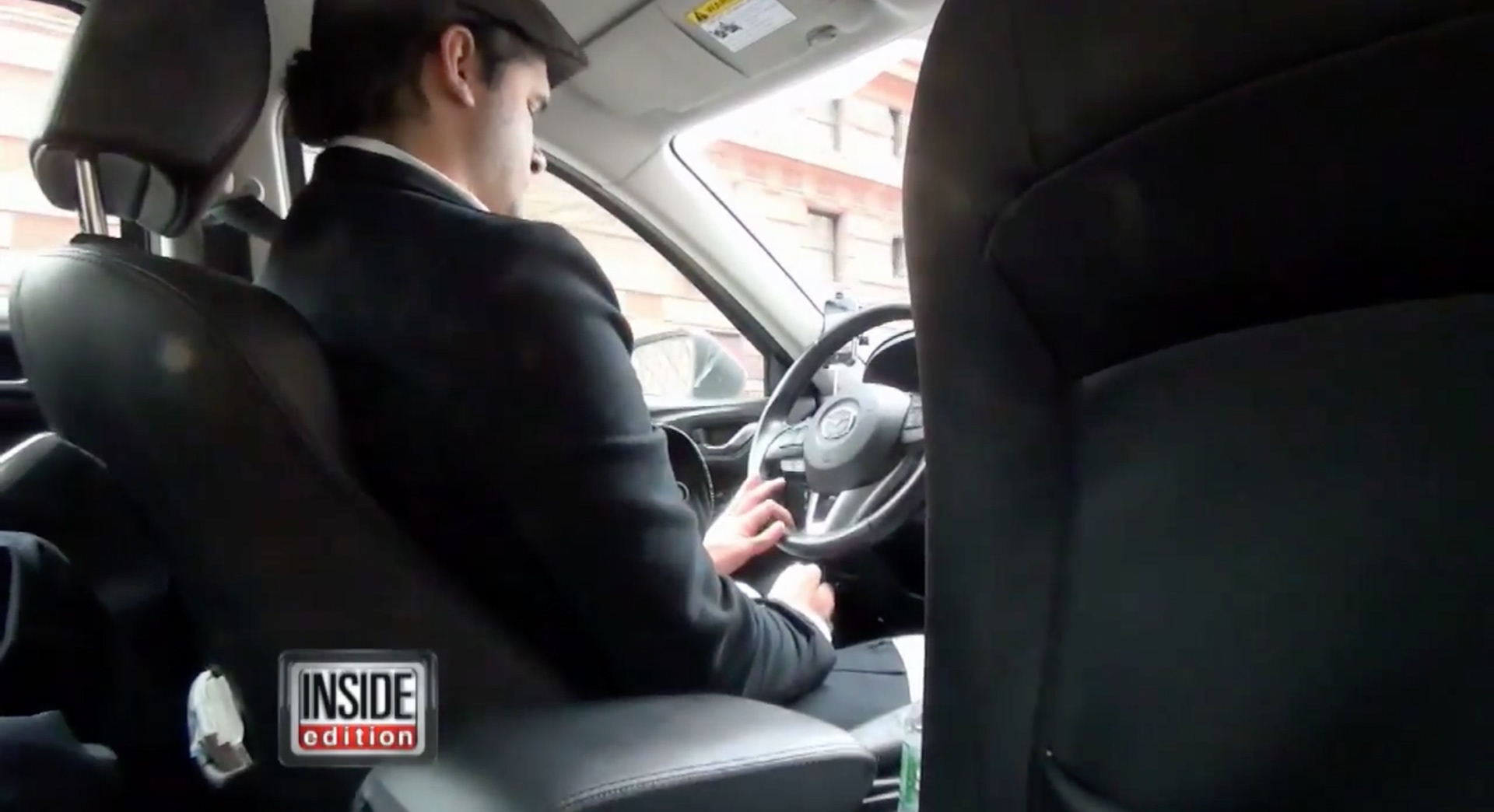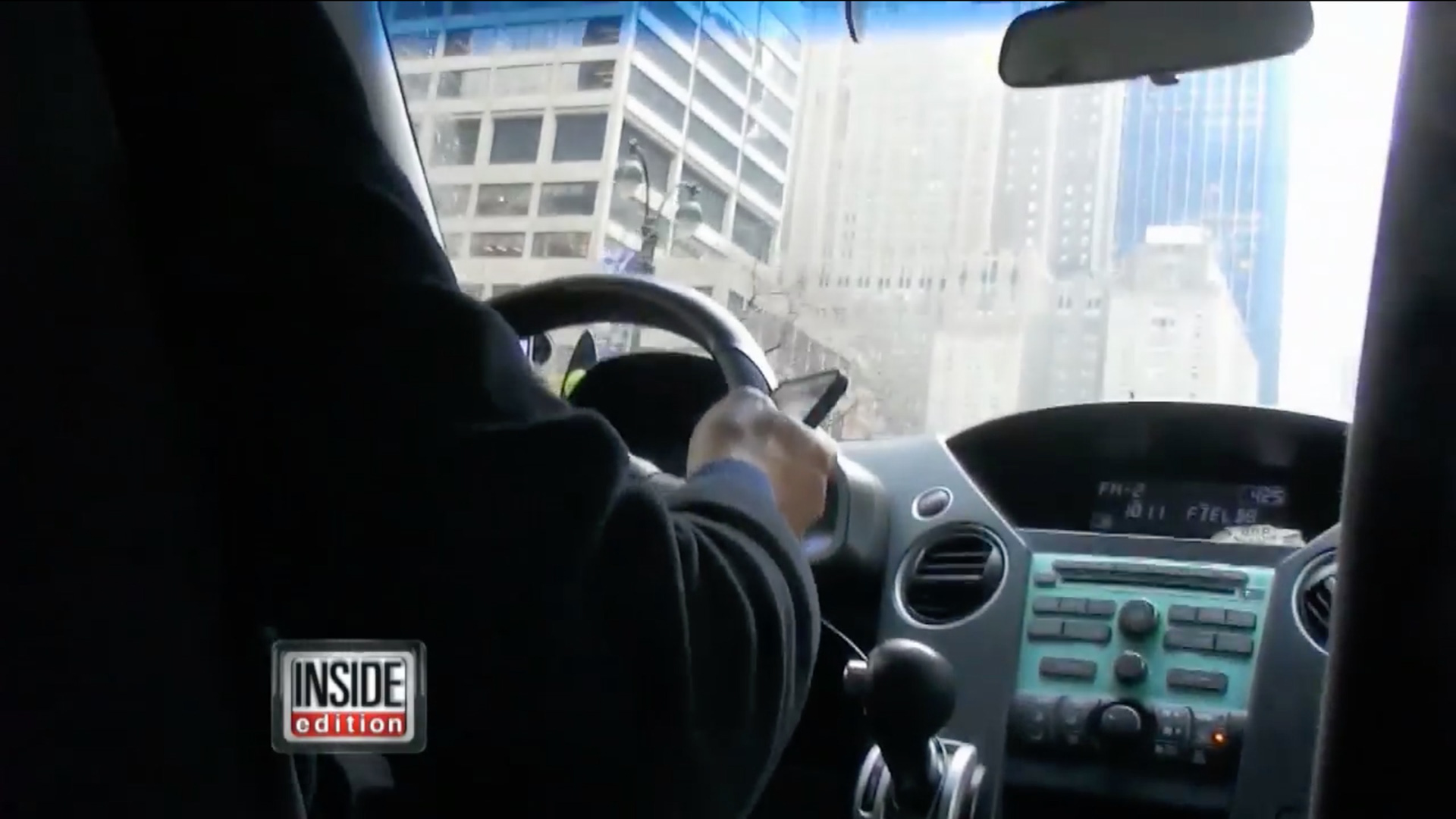 Why are Uber Drivers so distracted?
     - 🗺️ Checking Google Maps for alternate faster routes
     - 💬 Texting and driving
     - 📞 On a call with their next rider
     - 😨 And sometimes checking Facebook!
The investigation uncovered a variety of sentiments: 
    1. Some drivers felt they had no other option to use their phone while driving for navigation
    2. Some drivers felt they are entitled to use their phone because of their status as Uber drivers (which is not true).
INVESTIGATING THE CURRENT PROCESS
📝 Reaching out to drivers and riders to learn more
To better understand the perspective of our stakeholders, we distributed
two separate anonymous surveys
to Uber drivers and riders. Even though our sample's responses would not be 100% accurate or representative of the population, our survey would help us get a better idea of the situation and get feedback from the customers as well as drivers on their current opinion of the Uber Experience.
🚗 Understanding the plea of the drivers

Drivers admitted to using their phones but also expressed their frustrations of getting distracted while driving. Unfortunately, they didn't know how to get around the problem.
Here are the 4 key insights we learned from Uber drivers: 
📱
Drivers are tapping their phone while driving!
12 of 13 drivers surveyed use their mobiles specifically to switch between Uber and Google maps to modify routes.
😕
Drivers get lost when customers call them.
6 of 13 drivers got lost when a customer called them and hence missed seeing the navigation instructions.
🤷
Drivers are split on using other interaction mediums.
8 of 13 drivers preferred to continue to only use their phone while driving for Uber.
📞
A

larmingly drivers admitted to calling (5 drivers) and texting (4 drivers) while driving which almost led to near miss accidents.
👩👦 Customers validate our distracted driving concerns
An anonymous customer survey we posted on
Facebook
& Whatsapp received 62 responses and validated our concerns.
•68.9% of customers said they saw their Uber Driver interact with their mobile while driving

with more than 66% customers mentioning that the driver was using the Uber App and changing navigation settings respectively.
•57.4% of customers felt that their driver is feeling lost or confused, at least once

 while using their navigation application (eg. Google Maps).
•Customers also mentioned giving lower ratings to distracted drivers

, with many customers asking for a hands-free integration. If the issue persisted, they may leave the platform and in turn it may lead to bad word of mouth.
What is wrong with the current interface and interactions ?
Uber's statements have always stated that they encourage drivers to follow safe driving practices. However, in our heuristic evaluation below, we notice that the app requires a driver to physically interact with their mobile during the entire process of picking up a customer. 

😫 Accepting a customer is both hard and distracting! 
Currently a driver must physically interact with their mobile to accept a customer when notified. When an available customer notification comes in, a loud distracting beeping timer sound is played and the driver has 15 seconds to accept a customer. That means looking at the phone, seeing how far away a customer is and then making a decision to accept. Failing to respond in 15 seconds means the customer goes to a different driver and multiple failure to responds lead to drivers facing temporary suspension.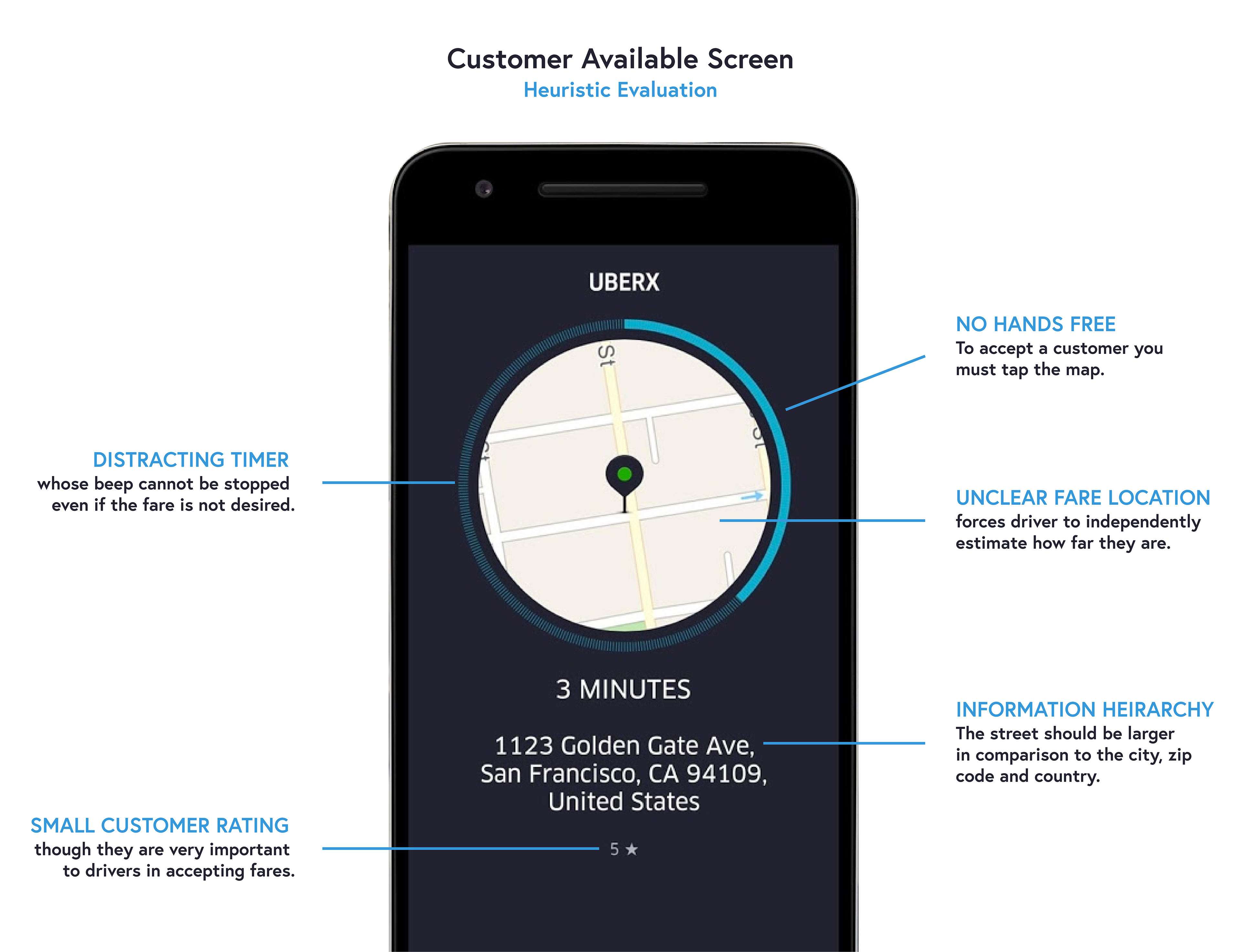 😶 You can't see directions when a customer calls!
Drivers get lost, during pickup, when a customer calls due to the call screen replacing their navigation screen. This has led to some drivers getting distracted, as well causing them to have or almost have near miss accidents.
"6 of the 13 drivers surveyed responded that they have gotten lost while picking up a customer because they called them and could not see the call screen." - Uber Driver Survey.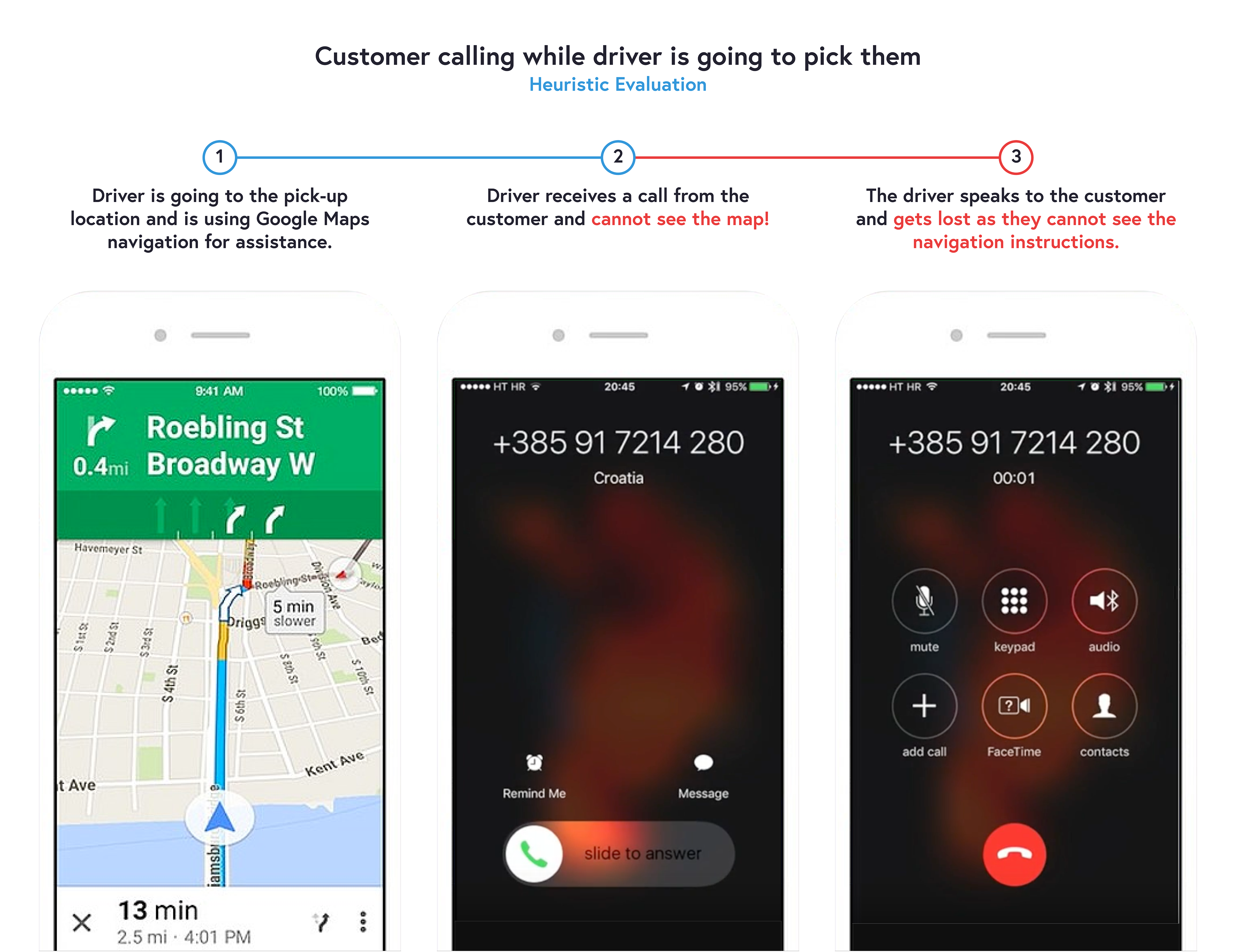 IDEATION
💡Looking at new ways to interact
Now that we had a firm understanding of the problem, it was time to focus on the key challenge -
finding a safer way to interact with the Uber Driver app.
Below are the ideas we considered.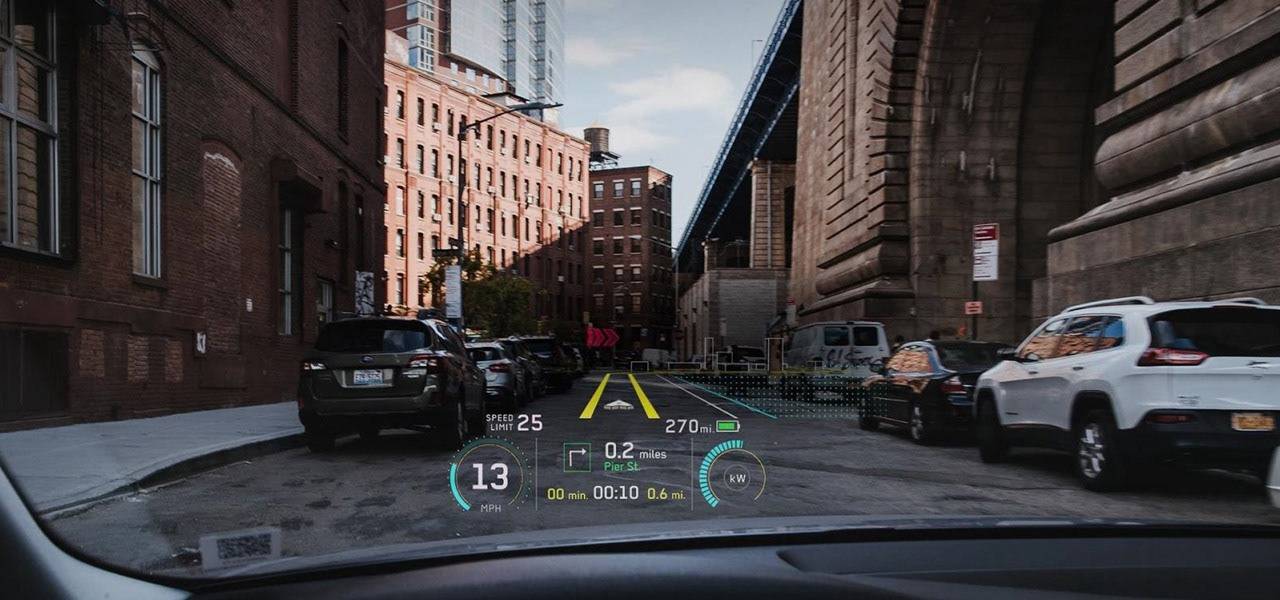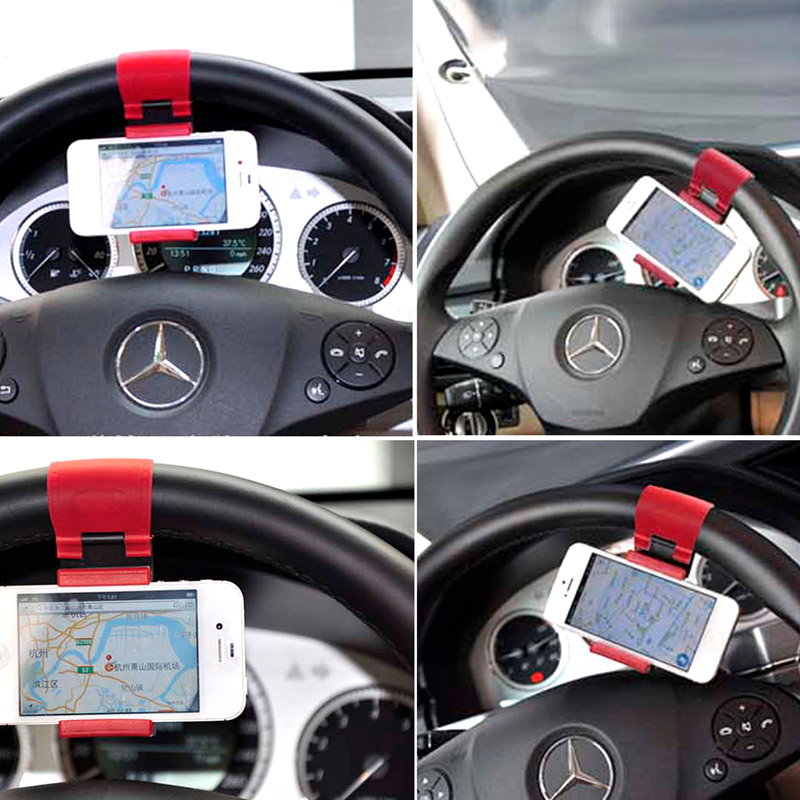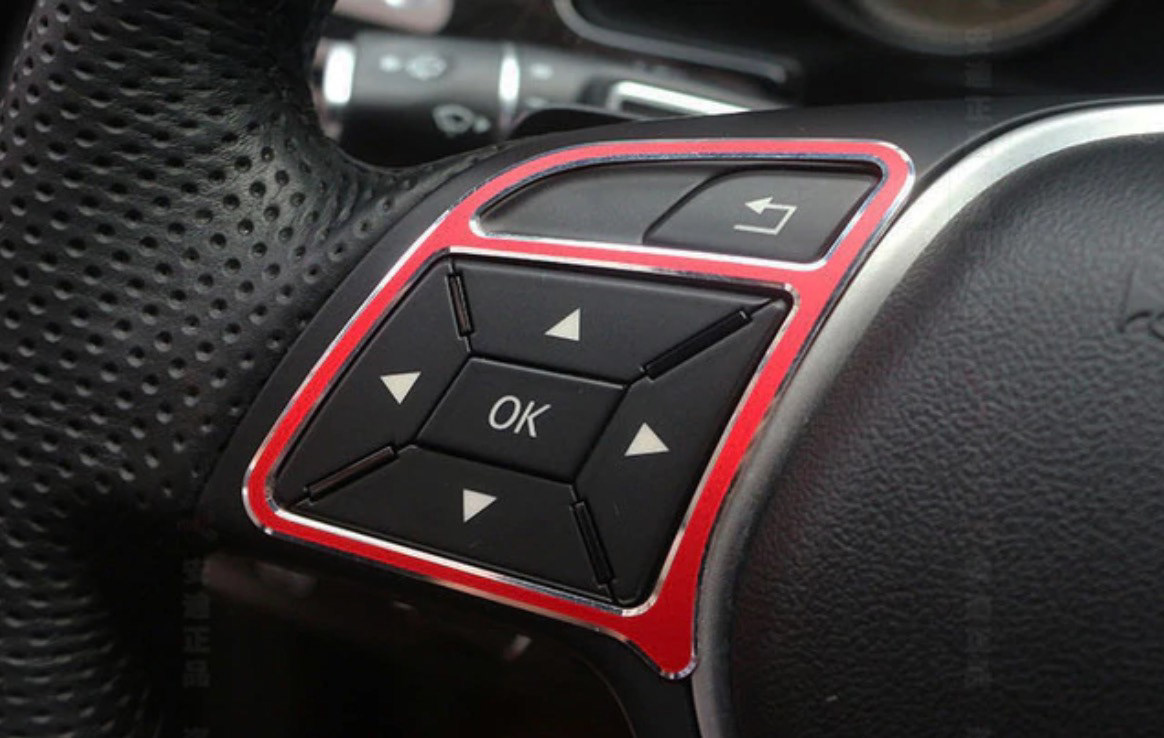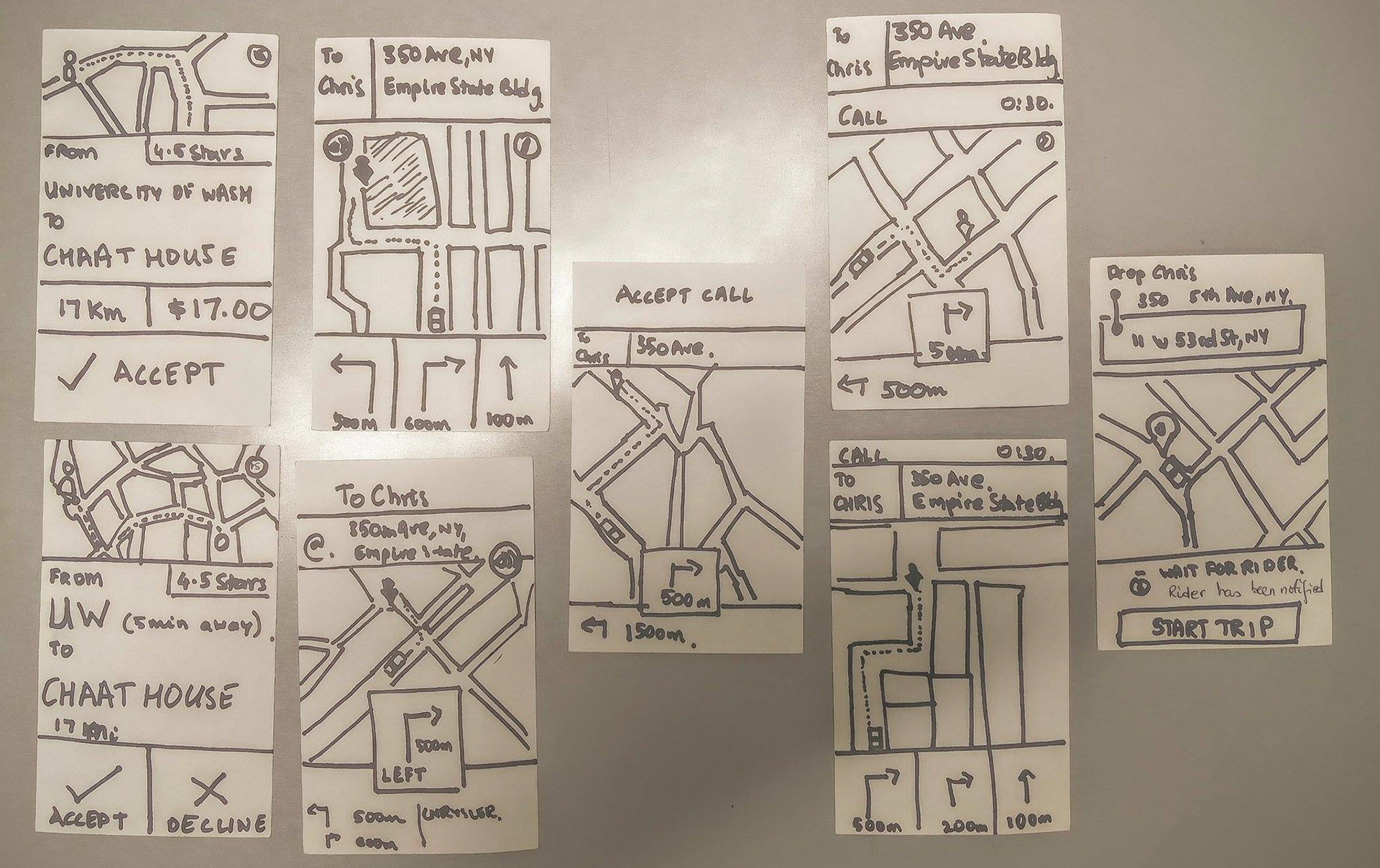 1. Holographic Projection
Our gut reaction to the problem was to introduce a IronMan like holographic projection on the windscreen but with a quick google search we realized this idea was not only impractical it was also ILLEGAL for safety concerns as it could potentially distract drivers - something we are trying to avoid! 
The next step for us was to introduce a companion CarOS app for the touch screen interfaces in cars. Unfortunately, this idea would not be suitable for all drivers as many Uber cars do not have AV systems compatible with Apple's CarOS. While extremely interesting, we realized this was more of an add-on solution which could be incorporated after. 
3. Recommending steering wheel phone stands to drivers
To reduce the time of a driver having to look away from their windscreen to interact with their phone, we thought of repositioning the phone on the steering wheel to make it closer to the driver's hand. However this was more of a workaround than solution. Moreover, we realized it would interfere with the driver's overall steering while driving. 
4. Introducing steering wheel and bluetooth button interactions
Our previous ideas made us more conscious that we need to design a
legal
solution which could be
deployed to all kinds of vehicles
. We analyzed the steering wheel button systems of the previous 10 year's cars and noticed that many were capable of interacting with smart phones. This is what made hands-free calling and song changing a reality. We imagined re-designing the user journey to become hands-free and incorporate this technology into the app.
Considering the benefits of this solution versus the rest, we moved forward with the idea and designed the new user journey.
Defining the goals 🎯 and measures 📈 for the new experience.
Before we started to work, on a micro scale, on the selected idea, it was important for us to define the goals and measures. 
The goals and measures were:
1. Hands Free Capability which allows steering wheel and voice interactions measured by whether the driver successfully pickups and drops-off customer without any interaction breakdowns. 
2. Day/Night Mode to improve legibility which is measured by the app successfully switching to day and night mode based on time and location.
PROTOTYPING
Introducing Car Mode. 
⛑️ We made safety a priority.
To help prevent distracted driving, we propose Car Mode -  a system which only allows a driver to use the Uber Driver app and Google Maps when searching for customers. This helps ensure drivers cannot text, browse the internet, or use social media which could potentially cause distractions. 
To re-enforce the idea of safety first, drivers will always see the CarMode loading screen (below) and will hear an announcement to keep their eyes on the road.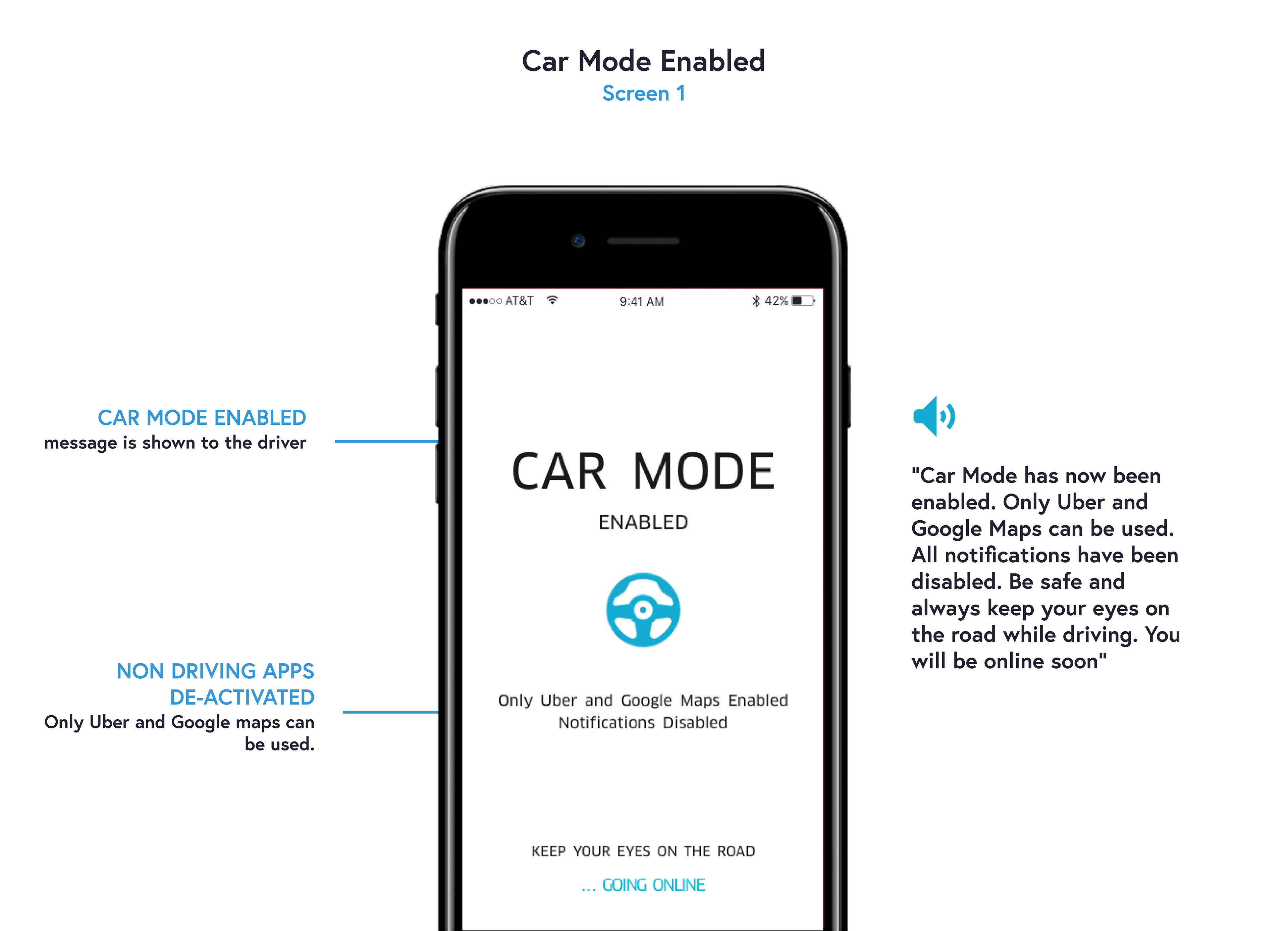 Hands on the Steering Wheel and Eyes on the Road
To reduce the physical interaction the driver made with their mobile device, we added a hands-free option in Car Mode. 
Enabling hands free allows the driver to interact with the Uber Application via the "Ok/Select/Play" button on their steering wheel. Bluetooth interaction mediums are available in most modern cars today. However, it can also be purchased for a small cost of $13 - $35 which can be stuck to the steering wheel. 
Using this button, the driver can accept a customer and move forward through the different steps of pickup and drop off of a customer highlighted in the screens below.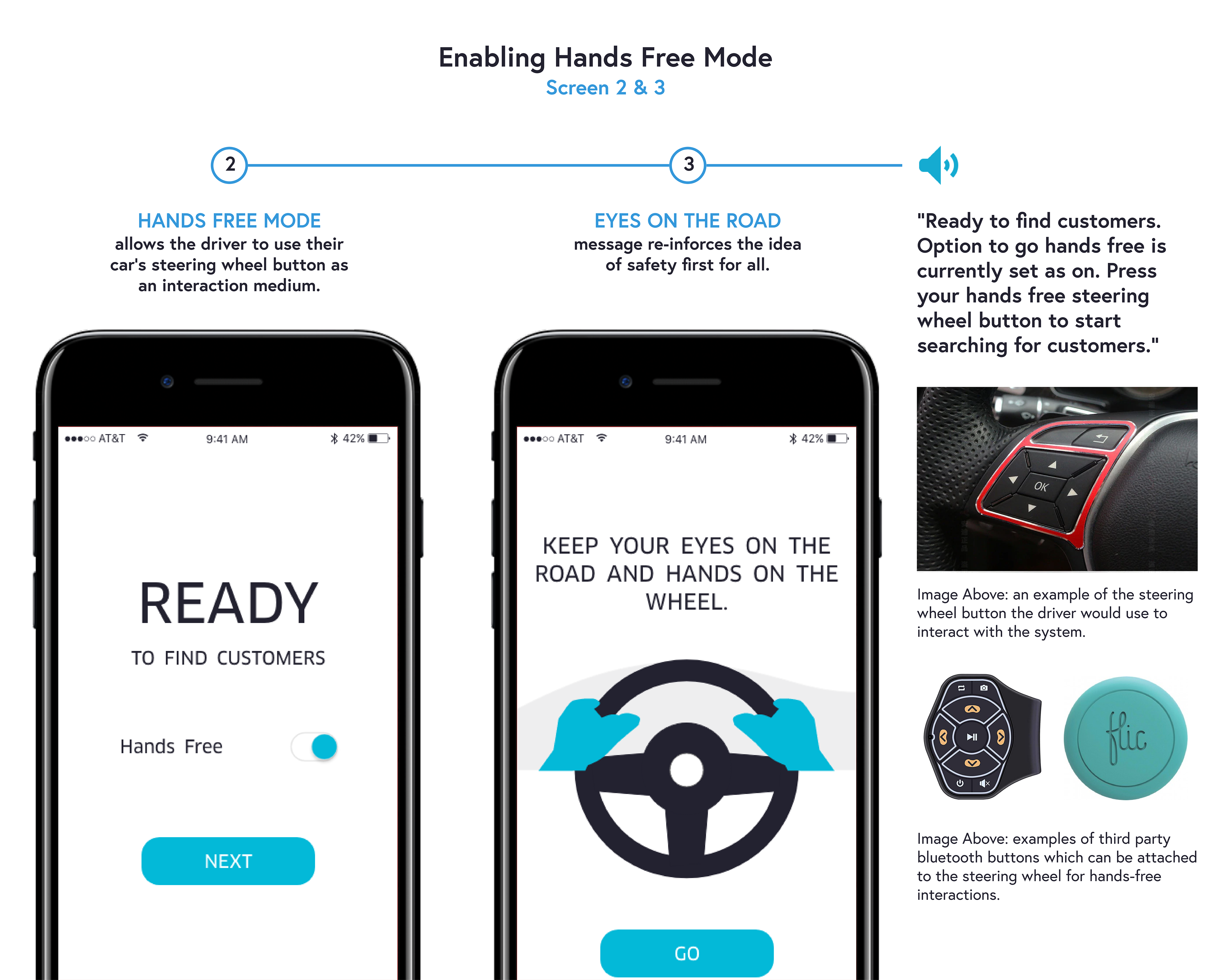 🙋 Available Customer Screen Redesign

To notify drivers of a new available customer, we have introduced audio descriptions of the customer details to ensure they keep their eyes on the road and not on the screen. A driver may opt out of this and therefore we have improved the legibility of the customer details (especially the customer rating) and modified the map to clearly show where the customer is located with respect to the driver.
To accept a customer, a driver may either press their steering wheel button (in hands free) or tap the large accept button on their phone screen.

Uber does not allow drivers to reject a customer until they sit through a 15 second timer. To ensure this timer does not distract or influence them, we have made it much smaller and moved it out of prominence.
🗣️ Interactions with
Voice
as well!
To reduce the glances a driver makes at their phone, we have introduced voice interactions with voice commands such as:
"Okay Uber. Is there traffic ahead ?
"Okay Uber. When is my next turn ?"
"Okay Uber. Are there any alternative routes ?"
"Okay Uber. What is our estimated time of arrival ?"
"Okay Uber. Call customer for pickup."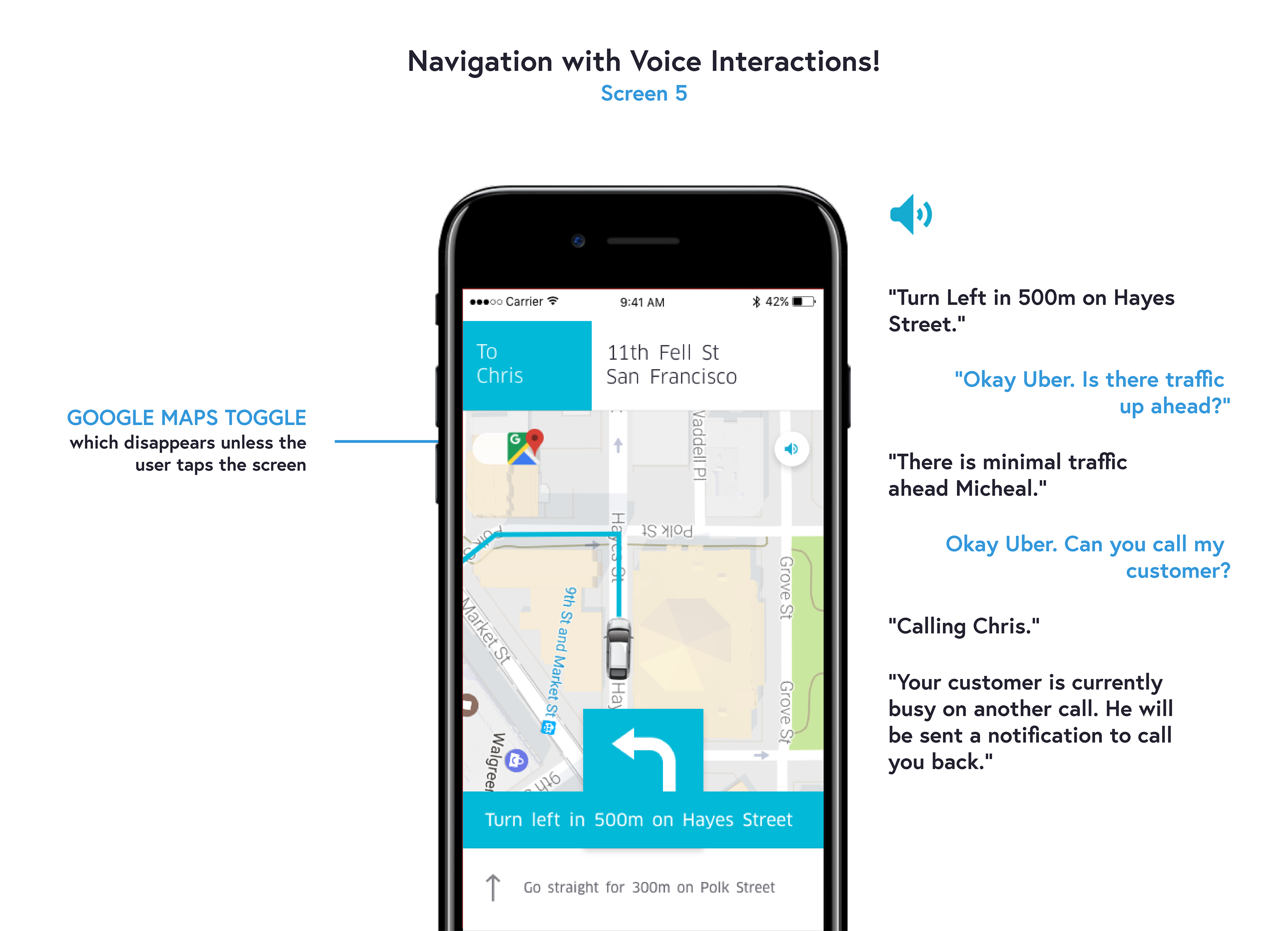 Now you can
accept calls and still navigate!
To ensure navigation can be seen at all times, we have introduced "In App Calling". When the driver receives a call from a customer, their navigation screen is pushed down by a small margin instead of getting completely replaced by a call screen. To accept and end the call the driver can press the button on their steering wheel.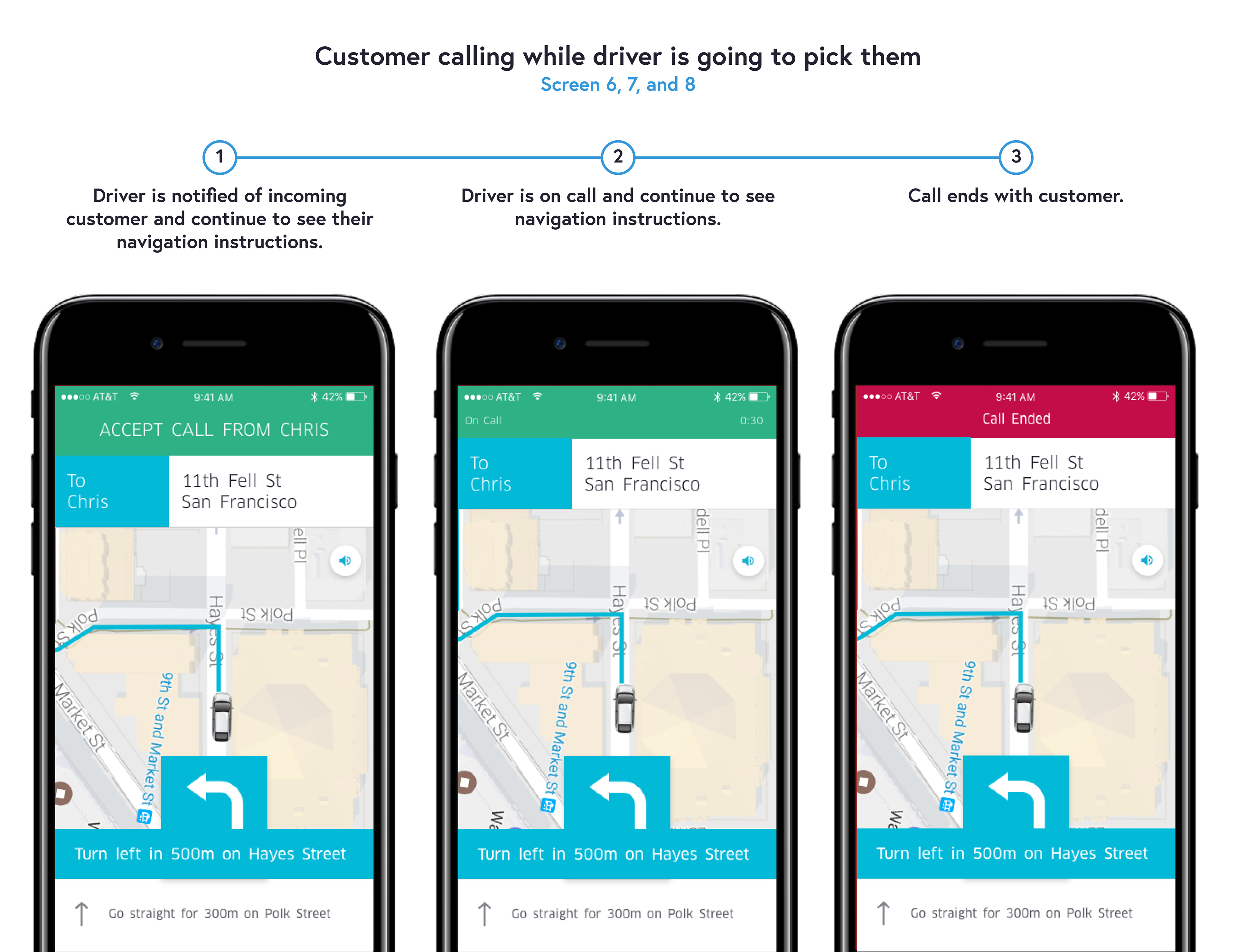 And one more thing... One Time Passwords! No more confusion about who is your customer 
🎉
In our surveys, we learned that drivers and customers got confused finding each other with some demanding better identification features. 
To help reduce this confusion, each customer will be sent a One Time Password via text which they can provided to the driver to ensure they are in the correct Uber. In addition to this a customer can now share a picture of themselves with their driver. 
This idea was inspired by 
OLA
 (Uber's Indian Competitor).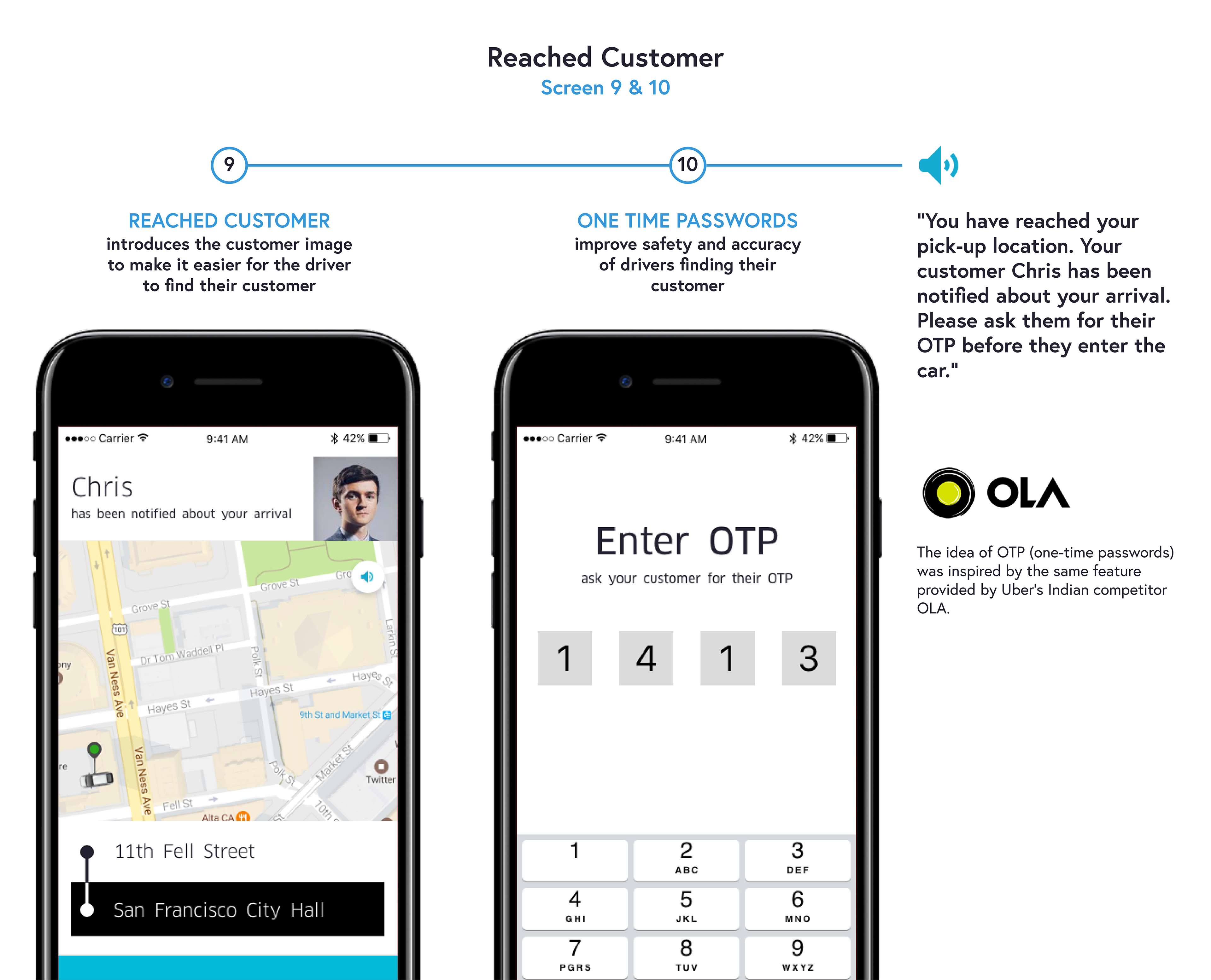 PROJECT PROPOSAL VIDEO
The
refreshed
safer journey Uber Journey
To propose the new user journey, we created a short video in a day. While our movie making skills could improve, it was a really good way for us to communicate our idea. 
USER TESTING
Does this Idea work?
To evaluate if the new design reduced the number of interactions made by a driver, we made a Wizard of Oz prototype for usability testing. Limited by time and resources, we decided to conduct our usability test with three college students. 
We introduced them to the Driver App and explained that the system was designed for Uber Drivers & not customers. They then received a steering wheel (crafted from a paper plate), a phone with the new design, and added audio-feedback as well. 
After which we, assigned them the task to go online, pickup a customer and then drop them. The results of this test are below. 

The Results
Overall, all three users were able to successfully complete the task but faced an initial difficulty of finding the "Go Online" button to start searching for customers. Users also stated that both Car-Mode and Hands Free needed more explanation. From these results, it was evident that the initial breakdown was caused as our testers unlike drivers, were not familiar with the app. 
Doing this test, helped us realize that a compulsory on-boarding tutorial should be implemented if the Car Mode & Hands Free feature were to get rolled out. We would have loved to design this but time was the key constraint.

Limitations of this project
Each design proposal brings it's limitations caused either by time or resource constraints. I like to acknowledge these as they would need to be addressed if the project was to progress in the future.

1. Not enough user research:
Since this was a small scale project we were limited by the significantly small number of drivers we spoke to and their feedback may not have necessarily represented the Uber Driving community.
2. Not testing with Uber Drivers:
 Evaluating the new design with current Uber drivers or people above the age of 25 would have been more advisable as Uber drivers tend to be in higher age groups. Testing with them may lead to different results and design flaws being identified and therefore should be done in the future. 
FIN.
📚 Key Learnings
My favorite part of this experience was during the ideation stage. Discarding our first idea of designing a holographic user interfaces was an eye-opener for me as I realized that practicality comes ahead of "COOL" as we need to understand our constraints.  
🤔 What Next?
I would like to explore the integration a CarOS version of the Uber Driver app due to the challenge of ensuring safe interactions and information presentation on a larger screen for drivers when they drive.
A week after our class ended, Uber released a feature for their Android app which allowed drivers to minimize the app into a bubble. This was introduced to make the app less obtrusive when drivers switched to other apps. I would to investigate the effects of this new feature and explore how it new could be implemented on iOS.